West Bend, WI – As the state of Wisconsin mourns the loss of former Governor Tony Earl, one local government official with 25 years of experience at the state level is recalling some wonderful memories with the 41st governor of Wisconsin.
"I knew Tony when he was our DNR secretary," said former senate majority leader Mary Panzer of West Bend, WI. "I was a staffer for then-state Sen. Walter Hollander in 1975 and I worked with Tony on those type of issues."
In 1980, when Panzer was a self-described "newbie legislator" she worked with Earl on what some remember as a "really dangerous Highway 45."
"Now people know it as County Trunk P but before we did the bypass, I was a very young Assemblywoman and we had to get these major projects delineated," said Panzer. "I went to Tony, and, as the wrong party, we were deep in the minority. I said, look, this is really awful, right? We have, basically a bloodbath going on, and somebody needs to listen to this.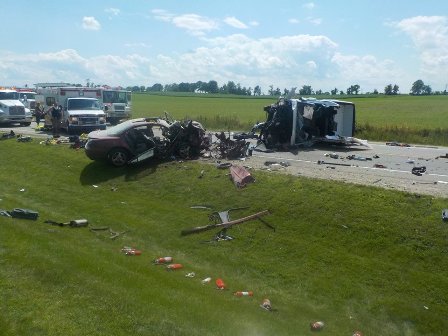 "He got it. He helped me get it delineated and that was the planning process; I think it opened about 1986 and then Tommy (Gov. Thompson) did some work to get it better as we went along. But it relocated, and I've always been grateful to him (Tony Earl) for that because there's no way the little freshmen from West Bend should have gotten that road delineated. And I did, and I've always been grateful to him."
Panzer said she and Earl both liked natural resources. "We were outdoor people," she said.  "He just became a good friend and back in those days, you could really get into very strong disagreements, right? Like, pretty, pretty strenuous, between hours and days, and then you'd go out and have a beer together and Tony love to do that. And he loved to sing. I sort of liked that social part of it too. So, whatever disagreements we had during the day, we'd settle at night. And he was that way, he enjoyed getting to know people and he always kept his word. You never had to worry about surprises, and he was just a good guy to work with."
Panzer also disclosed what she saw about Earl behind the scenes.
"He cared about families," she said. "I got to know his daughters; he had four and when I was adopting my niece, he was very caring, and not just to me, but others.
"When I became a Senator, and then eventually majority leader, he is one of the people I could call or sometimes he would call me and say, I've kind of been here before you might try this… He just believed in the system and the institution, more than being kind of a malcontent," said Panzer.
"Unfortunately, in recent years, you see people like him mostly at funerals and the last time I saw him, was December at Dale Cattanach's funeral; he used to be the head of Fiscal Bureau before Bob Lang."
Panzer was asked, if you could maybe channel Tony Earl, what do you think he would tell lawmakers today?
"Oh, I know what he would tell them," said Panzer. "He would say they were missing one of the better opportunities, and the privileges that you got as an elected official by not getting to know the people you serve with. You were missing opportunities to do good policy for the state of Wisconsin and as citizens because you didn't have the conversations.
"If he were here today, he would say you don't just need to have the conversations, you need to keep having the conversations.
"In spite of failings or not being happy about something, you have to keep going back and having the conversations when you have the title in front of your name, because that creates the ability to create good public policy.
"It doesn't mean you agree… but you have to keep that door open. We used to say never burn bridges; it used to be the slogan back then. But I think he believes; he definitely believes that by not having the conversations you were losing opportunities for the citizens that you were elected to help."
On a history note: Panzer started to recollect about the campaign ads when Tommy Thompson challenged Earl for the governorship in 1986.
"My God, he looks so young," said Panzer watching the video.  "I mean, these iconic ads and if you're nerdy like I am and excited to remember them?"
Panzer talks about the image of Milwaukee County Stadium, and a locked prison gate, and the bar graph with state funding 33%, property taxes 27%, state taxes 29% and then a smiling face of Gov. Earl.
"Tony and Tommy were best friends," said Panzer. "The person that called me Sunday night to tell me first about Tony Earl's stroke was Tommy.
"Tony was that kind of guy who transcended politics. You could strongly disagree with him and still like the guy."
After suffering a stroke this past weekend, Gov. Earl was hospitalized, spending his remaining days surrounded by his daughters and close family.
Former Gov. Earl passed away peacefully surrounded by loved ones on Thurs., February 23, 2023, at the age of 86.
Click HERE to read the initial announcement about the passing of former Gov. Tony Earl.
Following the signing of Executive Order #187 the flags of the United States and the state of Wisconsin will be flown at half-staff effective immediately as the state of Wisconsin honors former Gov. Earl's service and contributions to the state.
Former Gov. Earl was the 41st governor of the state of Wisconsin, serving as governor from 1983 to 1987. A Navy veteran and graduate of Michigan State University and the University of Chicago Law School, Gov. Earl served as an assistant district attorney in Marathon County from 1965 to 1966 and as the Wausau City Attorney from 1966 to 1969.
In October 1969, Gov. Earl was elected to serve in the Wisconsin State Assembly via special election and was reelected in 1970 and 1972. While in the Wisconsin State Assembly, he served as majority leader beginning in 1972 through December 1974.
Following his time in the Wisconsin State Assembly, Gov. Earl served as secretary of the Wisconsin Department of Administration from 1974 to 1975 and the Wisconsin Department of Natural Resources (DNR) from 1975 to 1980, serving under the administrations of Govs. Patrick Lucey, Martin Schreiber, and Lee Dreyfus.
Former Gov. Earl's lasting legacy is marked by his devout support of stewardship and conservation during his time both as governor and as secretary of the DNR. In addition to serving on several boards and commissions, including the United States Environmental Protection Agency's Subcommittee on Energy, Clean Air and Climate Change, the Center for Clean Air Policy, and the Great Lakes Protection Fund, in 2019, Gov. Earl was honored with the renaming of the Peshtigo River State Forest as the "Governor Earl Peshtigo River State Forest."
Former Gov. Earl was a Wisconsinite through and through—known for his authenticity, his wit, and his kindness, he has remained revered and respected by colleagues throughout his long career in public service, even decades after his time in office concluded. He was also known for pursuing pragmatic policy solutions with comity and respect despite party affiliation, his passion for and commitment to good governance, his leadership in promoting diversity and inclusion, especially for LGBTQ Wisconsinites, women, and communities of color, and being an outspoken critic of polarization and money in politics. Former Gov. Earl was also an active and engaged community member, including serving with distinction on the Board of Directors for the Joyce Foundation.
Effective immediately flags will be lowered to half-staff until sunset on March 3, 2023. Executive Order #187 also orders flags to be lowered to half-staff on the date of former Gov. Earl's future celebration of life. Details for the celebration will be released by former Gov. Earl's family at a later date.