July 23, 2021 – Kewaskum, WI — Air Force veteran Glenn Pietschmann, born in West Bend and now living in Kewaskum, will take the flag bearer's oath and accept the American flag during the 115-day Patriot Tour for Veterans.
On Saturday, July 24 during a 2:30 p.m. flag transfer ceremony in Beaver Dam at Ooga Brewing Company, Pietschmann will accept the flag as part of the nationwide, city-to-city 14,500-mile Patriot Tour for Veterans.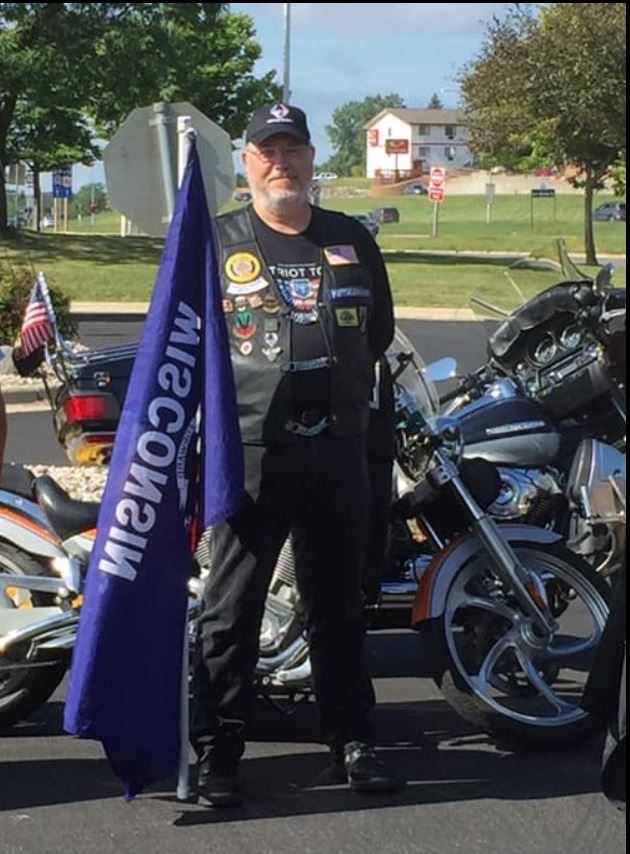 Pietschmann and a contingent of escort riders will then depart from the brewery at 9:30 a.m on Sunday, carrying the flag to its next Wisconsin stop in Fennimore.
Pietschmann said he enlisted in the Air Force to serve his country. "By luck of the draw, I served during peacetime. Now I have an opportunity to serve again, serving those who sacrificed so much more than me," he said.
Serving in the US Air Force from 1976 to 1980 as an avionics repair specialist,  Pietschmann tested and repaired on-board radios and navigation systems for F-111D aircraft stationed with the 27th Tactical Fight Wing at Cannon Air Force Base, New Mexico.
Pietschmann is honored to have been asked to accept and carry the flag during this leg of the Patriot Tour. "I was blown away," he said. "They asked if I was interested and I kept asking if it was real."
A native of West Bend currently residing in Kewaskum, Pietschmann has a history of involvement and service. He is a member of American Legion Post 36, Sons of the American Legion Squadron 36 and the American Legion Riders of Wisconsin District 2.
"I really believe in the Nation of Patriots organization because it is truly a grassroots entity. Strangers from around the country rally around the flag and deliver it from group to group. Patriotism and helping others, it doesn't get better than that," Pietschmann said. "It is still hard to believe I will be one of the few that get to carry the flag this year. It is truly an honor."
The Patriot Tour flag and rider escort from Milwaukee will arrive in Beaver Dam on Saturday morning, with additional riders coming from Fond du Lac and Madison.
These riders will gather with Dodge County-area riders at 6th Gear, W7771 Hwy. 33, for a 1:30 p.m. departure to and through downtown Beaver Dam, finally ending at Ooga Brewing Co.
Riders departing 6th Gear will follow Hwy 33 West to 151 South to exit Hwy D, Madison Street where the parade route officially begins.
The parade will head north on Madison Street, then right onto Front Street to a right turn onto South Spring Street, arriving at Ooga Brewing Company at 2 p.m. Pietschmann will take the flag bearer's oath and accept the American flag during the 2:30 p.m. transfer ceremony.
Preceding its arrival in Wisconsin, the Patriot Tour flag will have traveled through 33 states, this year launching May 14 from Las Vegas. Transported by air to Hawaii and Alaska and across the 48 continental states by motorcycle, the flag and the Patriot Tour for Veterans will return to Las Vegas  on Saturday, September 11, having journeyed for the first time in its history through all 50 states, officials confirmed.
Nearly $1.5 million has been raised and distributed to veterans in need through this grassroots effort since the Nation of Patriots' inception in 2009.
The Patriot Tour for Veterans flag has flown over the White House, on the USS Independence Aircraft Carrier, in an F-16 fighter jet over the Nevada desert and on the motorcycles of more than 1000 proud flag bearers with escort riders numbering in the hundreds of thousands.
To learn more about the Nation of Patriots visit www.nationofpatriots.org
For more information and event details visit the 2021 Patriot Tour schedule at www.nationofpatriots.com/nation-of-patriots-tour/
Donations can be made at any of the tour stops, online at www.nationofpatriots.org or by U.S. Mail to: Nation of Patriots, P.O. Box 73, Sussex, Wisconsin 53089.
About the Nation of Patriots
Founded by Bill Sherer in Milwaukee, the Nation of Patriots and its inaugural Patriot Tour launched in 2009. Nation of Patriots provides financial support to America's Armed Forces veterans and their families. Nation of Patriots is a 501(C)3 nonprofit, nonpartisan organization that is 100 percent volunteer-driven and gives 100 percent of all donations directly to veterans in need.