Penny Wars at St. Frances Cabrini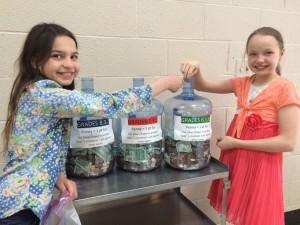 Penny Wars are in full swing this Lenten season at St. Frances Cabrini. During Lent Pope Francis asked us to "give of ourselves to help make others' lives better." At St. Frances Cabrini School students and staff are raising money to donate to the Leukemia Center.
The Penny War consists of three water jugs in the cafeteria and during lunch students drop a donation into the red, blue, or green container that coincides with their grade level. The container with the most will be given a pizza party by the Leukemia Society.
"While that is a nice reward students are reminded we are doing this because we want to help others less fortunate than ourselves," said Principal Aaron Hilts.