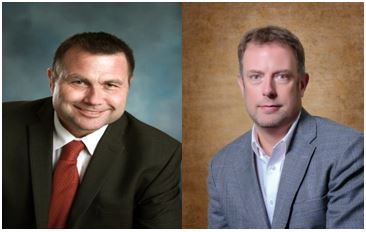 July 19, 2017 – West Bend, WI – Froedtert & the Medical College of Wisconsin St. Joseph's Hospital welcomes Pete Rettler and Steve Volkert to its board of directors.
Each will begin a three-year term in August 2017 and is eligible to be re-elected to two additional three-year terms.
Pete Rettler is the campus dean for the West Bend Campus at Moraine Park Technical College, a position he has held since 2007. He oversees instructional technology, the libraries and institutional effectiveness for all Moraine Park Campuses.
A lifelong resident of Washington County and an active member of the West Bend community, Pete holds a master's degree in management and organizational behavior from Silver Lake College in Manitowoc. He received his bachelor's degree in business administration – business finance from the University of Wisconsin-Eau Claire, and is certified by the Wisconsin Technical College System in computer information systems and computer software and as an instructional supervisor.
Steve Volkert is the city administrator for the City of Hartford. He has also served as assistant city administrator for the City of West Bend, and village administrator for the village of Winneconne. Steve received his master's degree in public administration from University of Wisconsin-Oshkosh and his bachelor's degree in business administration and marketing from Lakeland College. He is a member of the Wisconsin City/County Managers Association, Municipal Employers Association of Southeastern Wisconsin, and WMCA Recruitment and Conference Planning Committees. He also is on the board of directors of the Brandon Thielke Foundation – Cancer Treatment.
"Pete and Steven bring outstanding credentials to the St. Joseph's Hospital Board of Directors," said Christian Tschechlok, chairman of the board.
"Not only do they excel at what they do from a business perspective, but they're very committed community-minded individuals who are dedicated to the communities we serve. We are particularly excited to add their important and unique areas of expertise to the board as we work to maintain the highest levels of care available to area residents during a time continuous change in health care."
Froedtert & the Medical College of Wisconsin St. Joseph's Hospital, founded in 1930 by local doctors, community leaders and the Sisters of the Divine Savior, is a full-service hospital serving residents of West Bend and Washington County.