Popular downtown West Bend store is closing. "This was an exceedingly tough decision."
Feb. 15, 2017 – West Bend, WI –  After 16 summers of farmers' markets and 15 years of business, Century Farmhouse will cease soap making as of February 25 and the Studio shop at 136 S. Main Street in West Bend will close its doors.
Century Farmhouse began at the West Bend Farmers' Market during the summer of 2001 and the LLC was formed in December of 2001.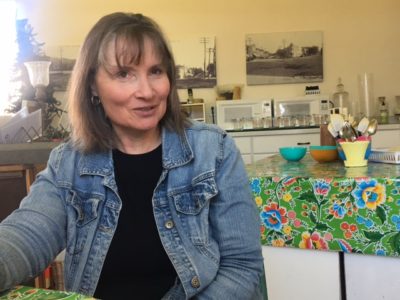 "West Bend is my home and some of my very first customers still come through our doors to buy soap," said Ann Marie Craig, owner and founding member of Century Farmhouse.
It was Craig's work with Country Living Magazine in 2006 that launched her from a "very small" home-kitchen operation to a storefront.
"We were living in my inky dinky little house with 3,000 bars of soap and I had to move it out," she said. "Someone had to leave and it wasn't going to be me."
Finding space took quite a while. Initially located in Barton from 2010 – 2013, Craig was on the verge of closing when the former Hemauer building / paint store opened on Main Street in downtown West Bend.
The adventure in the triangle building included an appearance on John McGivern's Around the Corner, signature events with West Bend's DIVA group, and soap-making classes that featured bundles of wonderful lavender.
"Some of the soaps I've done for Country Living have had everything from sawdust to ice cream in it," said Craig. "That was called 'A Day in the Country.'"
The creations at Country Living have no boundaries and included other items from Mother Nature including melted snow, Hudson River water and even chicken feathers.
The overall decision to close the store "has been extremely difficult" according to Craig but the timing is right both personally and professionally.
Moving forward the focus of the Century Farmhouse brand will broaden toward education rather than soap production and retail.
"I will make tiny batches of soap but the plan is to broaden into more do-it-yourself projects," said Craig. "If I needed something or wanted something I had to make it because that's how I grew up so I'm just hoping to capitalize on some of those fun things."
Although the shop venue will close, Craig will continue to work within the Century Farmhouse brand as a speaker and teacher.
"This was an exceedingly hard decision," Craig said.
"The very hardest thing about this change is saying goodbye to people who have become not just customers but friends, and I want to be certain to thank everyone who has played a role in our successes over the years."
Working in downtown West Bend, according to Craig, has been extremely rewarding. "The environment in downtown West Bend is fabulous," she said. "Everybody works together and the DIVA group is an amazing group; it's a fluid group and we really work hard to make the downtown a total shopping experience for everyone."
Soaps from Century Farmhouse will still be available online for the next few months and on a few Saturdays at the West Bend Farmers' Market this summer; those dates have yet to be determined.
Store hours through Saturday, Feb. 25:
Wednesdays, Thursdays, & Fridays 10 a.m.  – 6 p.m.
Saturdays 10 a.m. – 4 p.m.
website: www.centuryfarmhouse.com
Online orders can be picked up at other local downtown shops – notification of where will come with the confirmation of your order. Soap club cards and gift certificates will continue to be honored as long as soap is available.
Please direct questions to the comment section of the website or directly to Ann Marie Craig.
email: [email protected]
Thank you, West Bend.  Ann Marie Craig