Poster art Saturday, Feb. 27 at MOWA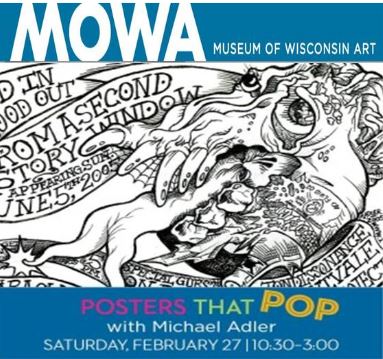 Remember the posters from Kissey's car show in Kewaskum and the artwork from the goofy Wacky-Pak cards from the 1980s – that style of poster art will be taught in a unique studio class Feb. 27 at the Museum of Wisconsin Art.
The class will be taught by Milwaukee graphic designer and illustrator Michael Adler who will lead students through the creation of an "eye-popping" poster using illustration and design skills all while studying world-famous artists as a guide. Register by Feb. 23.
MOWA will also celebrate the 100th anniversary of the Wisconsin Designer Crafts Council on Thursday, Feb. 25 at 6:30 p.m. Enjoy a talk from current members honoring their former teachers, mentors, and friends. Cake and refreshments will be served.
Find more information at the Museum of Wisconsin Art.