Powerball numbers from Saturday night

August 20, 2017 – Washington Co., WI – Quite a few people took a break from the Packer game to dash out and buy a Powerball ticket on Saturday night. The jackpot was a whopping $535 million. The winning numbers were 17, 19, 39, 43, 68 and a Powerball 13.
According to the Multi-State Lottery Association nobody matched all the number so Wednesday's jackpot grows to a mere $650 million.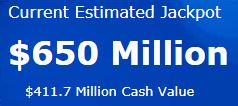 Graphics courtesy Multi-State Lottery Association.