West Bend, WI – There's a small jewelry store on S. Main Street in West Bend, Wi. Unassuming in size, Maus Jewelers is a hidden gem (pun intended) with mom-and-pop service, a handpicked selection, and a comfortable environment that caters to its customers.
Justin Mueller is the owner of Maus Jewelers, 930 S. Main Street, in West Bend, Wi.
Mueller is the boy next door, who had a love and God-given talent for repairing small shiny things.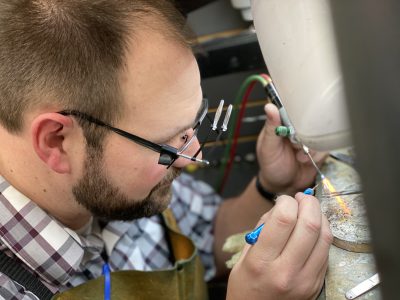 Born and raised in the little town of Beechwood Mueller graduated Kewaskum High School in 2005. It was one of his teachers who noticed he had a knack for metalwork.
Click HERE to SUBSCRIBE to FREE local news at
"My high school art teacher, Deb Stone, was the one who got me started on this path," said Mueller. "She was the best art teacher I could have asked for because she saw something in me and nourished it.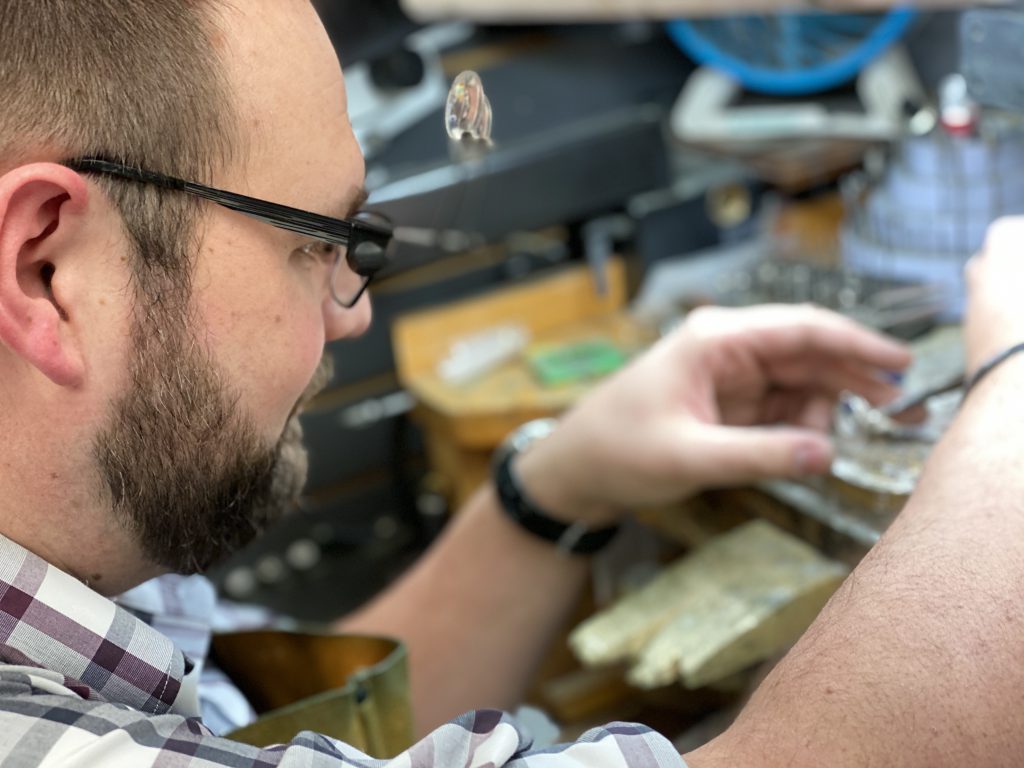 "We would stay after class and while all the other kids were working in brass and copper, she got me sterling silver to work on. She taught me everything she knew."
Blessed with a natural skillset, Mueller continued training, working with Greg Callaway at Callaway & Co. in Kewaskum and eventually applying for a job at Maus Jewelers.
"When I came in, I was actually applying for a sales position," he said about Maus Jewelers. "I brought my little tray of jewelry I had made in my basement, and he brought it back to Joy and said, you know, looks like this guy's got some talent and they hired me on the spot."
Mueller was 18; he had found his passion working with store owner Ray Maus in 2006.
To create a friendly and comfortable atmosphere, where service is our top priority. Whether it's selecting a fine piece of jewelry at a realistic price or restoring a treasured keepsake.
A goldsmith with keen skills including watch repair, Mueller learned about customer service and community from Maus.
A fixture in the West Bend area since 1986, Maus Jewelers has developed a reputation for traditional values, strong customer service, and treating people like family.
Ayriana Benz – I had an awesome experience with Maus Jewelers! I stopped by back in December to see about getting my ring re-plated and they were able to get it done same day! I also needed to get it appraised and they cleaned it and replaced a small diamond that had fallen out. About two months later I noticed a diamond had fallen out and wasn't sure if it was the same one. I reached out to Maus to see if they offered any kind of warranty and they offered to replace the diamond free of charge. Turn around was super quick! Amazing experience and awesome customer service! I will definitely be going back if I ever need anything else!
It was October 2020 when Mueller purchased the business from Maus. "He was ready to retire," said Mueller, who has been deep in work and watch repair.
"Every day is different," said Mueller. "Watches are my thing."
The oldest watch Mueller has tinkered with was from 1872.
"That was fascinating, mostly because of the simplicity of it," he said. "But it was actually how complex it was for not having machinery and all these gears were cut by hand. It was it's amazing to see all the time and the effort and how exacting the tolerances need to be to make this watch run.
"The thing I love about my job is that when the watches come to me, they're already broken. I can't make them worse. All I can do is make them better and to have this watch that hasn't run for maybe 100 years, all of a sudden start running and keeping decent time. That's awesome."
Address: 930 South Main St. West Bend WI, 53095
Phone: (262) 334-2277
Hours: Monday thru Friday: 9:30am – 6pm Saturday: 9:30am – 3pm
Closed Sundays and most Holidays
Email Maus Jewelers at [email protected]