West Bend, WI – A new farm-to-table restaurant and catering business will be opening this June in Washington Co., WI. "The Grün Hexe Kitchen & Catering is going to be a small restaurant that will work with a lot of local farmers," said Ashley Feucht Gregoriou, one of the owners of the establishment.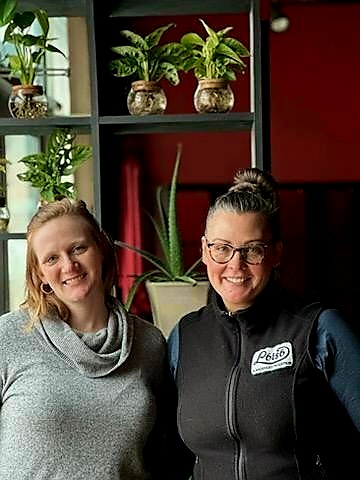 Gregoriou hails from Kewaskum and her business partner is Audra Wagner-Green of West Bend. Both women have over 20 years experience in the restaurant industry; you may recognize them from Timmer's or the old Tochi Ramen.
Click HERE to SUBSCRIBE to FREE local news at
Interesting to note, the Tochi Ramen spot at 705 Village Green Way, West Bend, WI, is going to be the new location for The Grün Hexe Kitchen & Catering
Click HERE to SUBSCRIBE to FREE local news at
"This is our first run at our own business," said Gregoriou.  "Audra and I both came from Timmers on Big Cedar Lake; we were the GM and executive chef team there."
Gregoriou worked at Tochi Ramen for Gregg and Kathy DesRosier when they opened in the same space in 2015. "I've known Kathy, the previous owner, for many, many years," she said. "The space on Village Green Way is a good size, it's manageable, the natural sunlight is very welcoming and the whole scene here is just really something we'd like to be a part of."
The menu at
Grün Hexe Kitchen & Catering
will feature a "scratch kitchen" that will be open for lunches, dinner, and Saturday brunch. "We both really enjoy cooking," said Gregoriou. "Our ingredients will be locally sourced with a lot of fresh herbs, and Audra has her own, fresh edible flowers she grows and we're connecting with farms in the area. The menu will offer fresh soups and salads, paninis, wraps and fresh pasta as well.
"We're also going to have a catering aspect for business lunches; grab-and-go sandwich platters and that kind of thing," said Gregoriou. "We will also do private events and extend to bigger events, like bridal showers, baby showers, and even rehearsal dinners. We have the experience in that arena to handle all types of catering; we're curious to see what West Bend is looking for and how we can fill that niche."
"A special thanks to our family, friends and community that have encouraged us along the way. We can't wait to share our love of food with all of you!

Please follow us to watch us grow in our endeavor!" -Aud & Ash
While the former Tocci space was edgy with a punk rock flair, Gregoriou said they plan to be a little more natural. "We're bringing in a lot of plants and greenery," she said. "We're definitely changing the color palette to be more green and natural."
Gregoriou said they are hoping to be nimble with menu and catering orders by offering online ordering.  "We have to figure out all the little nuances yet, but we're thinking people can come online, even within a 48-hour timeframe, and if a business needs a luncheon catered, we would be able to respond with wraps and sandwiches and homemade desserts that can be ordered online."
Grün Hexe Kitchen & Catering
will have a craft beer and wine selection, prices will be "midrange" between $10 and $20 for menu items, and the restaurant will employ six to eight people, mostly family to start. While there is has some remodeling ahead Gregoriou hopes to open by June 2023.