Record Store Day: Remembering your first album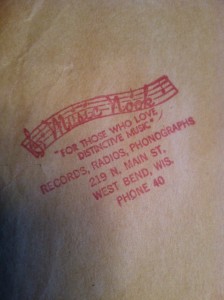 April 13, 2018 – West Bend, WI – On Saturday, April 21 The Exclusive Company, 144 N. Main St., in downtown West Bend is celebrating a nationwide tribute to Record Store Day. Neighbors remember their days of ripping the cellophane off an album, delicately sliding the vinyl out of the paper sleeve and gently setting the needle on the spinning disc.
Tom Meisenheimer, formerly of West Bend, said his first 33 r.p.m. was a John Philip Souza album followed by the 1812 Overture. "All the Kingston Trio albums and then all the Ray Coniff albums," said Meisenheimer recalling his days with his phonograph in the mid 1950s. "I bought the albums at Southgate, the first shopping center on 27th Street on the south side of Milwaukee, where I grew up," Meisenheimer said.
Bob Bonefant grew up on a farm outside New Fane and had a plastic phonograph in his bedroom. "I was still in high school and I reviewed records for the Daily News when Don Kosterman was the editor," said Bonefant. On a mailing list from major labels like Motown and Atlantic, Bonefant had packages of albums and 45s waiting for him when he got off the school bus.
"Some days I would get a handful. I loved listening to the new stuff, it was like an adventure," he said recalling his first albums Herman's Hermits, Tommy James, and wearing out his copy of 'Jesus Christ Superstar.'
"Back in the mid to late 1960s there was a record store in Kewaskum that sold albums for something like $2.99. I'd also go to Record Doctors or Peaches in Milwaukee and look in the 'cutout' bins or at the 12-inch disco disks from overseas.
"I still think listening to vinyl is way better than listening to a CD. It has more 'atmosphere,'" he said.
Mike Paul of Kewaskum remembered his first investment in vinyl. "It was K-Tel's Greatest Hits. K-Tel was my introduction to and end of 'COD charges,'" he said.
The top three albums in Paul's wire record rack were/are still AC/DC Back in Black, Supertramp Breakfast in America and Jethro Tull Aqualung.
"As kids we pored over 45's in the appliance store run by Jack Jadro in Kewaskum. Every now and again I stumble across a 45 spindle insert that allowed you to play 45's on a 33 spindle. It's the same feeling I get when I see a rotary phone. We listened to vinyl on my parents 1960's era stereo that sat on four chrome legs and had detachable swing-out speakers that could be set up remotely."
Judge Andrew Gonring shopped at The Exclusive Co. and he's still trying to confirm whether Exclusive had a punch-card system that allowed "your eleventh purchase of a 45 r.p.m. free once you hit 10 buys."
Lori Lynn Radloff grew up in West Bend and remembered having a portable record player with detachable speakers. "To be honest I think I bought more 45's than albums….they were cheaper," she said. Her first albums included The Doors, Led Zeppelin, The Beach Boys, Elvis, and The Beatles.
Jerry Mehring of West Bend had a 45-r.p.m. record player which sat on top of their family's big old floor-model radio. "The record player was connected to the radio speaker," Mehring said. "The first albums I bought were the Dukes of Dixieland. I still have them and I have a turntable in the basement but haven't used it in years."
Former West Bend School superintendent Ted Neitzke admitted he has 'a vice for vinyl.' "It's the one format that has stood the test of time and there is nothing better than a musty collection of records to force you to sit down and enjoy songs in the order the artist wanted you to," he said.
Neitzke's first album purchased with his own money was the Police – Synchronicity. "However, by the time I was 10 I had collected over 100 records that my aunts and uncle were discarding as they transitioned to 8-tracks and eventually cassettes.
"I remember getting stacks of records from my parents and relatives and going to my room with my Sanyo boom box and making mix taps from the records." Neitzke grew up with a rich and eclectic collection of music. His mother gave him all the Beatles vinyl and his dad contributed the Rolling Stones, CCR, Woodstock, Four Tops, Jimi Hendrix.
A fan of buying local at The Exclusive Co., Neitzke often rummages through the used vinyl. "I'm searching for old U2 albums or the occasional James Taylor because his music reminds me of rides in the back of my parents Buick as a kid."
Record Store Day at The Exclusive Co. in West Bend is Saturday, April 21 from 8 a.m. – 8 p.m.
West Bend:
Hours : Saturday 8 a.m. – 8 p.m.
Sunday 11am–4pm
Sales:
-10% off NEW vinyl, CDs, DVDs, Blu Rays (excluding RSD 2018 titles)
-50% off USED items $19.99 and under!
-Double rewards points!
-FREE Exclusive Company t shirt w/ $100+ purchase! **WHILE SUPPLIES LAST!!**
Live Music:
Sunshine Trio 11am-1pm
Lead Bottom 3pm–5pm