Remember Julie Ann Fabrics in West Bend?
Jan. 8, 2018 – West Bend, WI – In August 2007 Rosemarie Alf died and that prompted a story about the old Julie Ann Fabrics store in West Bend. How much do you remember?
Rosemarie Alf and her husband Marshall brought the franchise to West Bend in February 1969. "That shop was located at 120 N. Main Street next to a little diner in the old Marth (Centrum) building," said Helen Baierl who was a partner with her sister. "We did a good business because people came downtown on Friday nights. We did much better then we thought we would that first year," recalled Baierl as she talked about people lining up at the door when they initially opened.
Both sisters sewed and while Rosemarie's husband Marshall helped run the store, sharpening scissors and repairing sewing machines, Helen's husband Donald took care of the book work.
"When the Westfair Mall came into town we moved there," said Baierl remembering others in the mall in 1972 including Nobel Shoe Store, Koehn and Koehn Jewelers and Bits N' Pieces Floral.
Julie Ann Fabrics carried everything for sewing including name brand patterns like McCall's, Vogue, Simplicity and Butterick. "We had a lot of the mod stuff," said Baierl laughing now about the A-line dresses she made 'out of gaudy prints.' Baierl also touted the store's hands on customer service. "If customer's couldn't lay out a pattern they'd bring it in and we'd put it on the table and lay it out." Baierl said they were so busy she put her four daughters to work dressing manikins. Other employees included Delores Goeden, Joan Fink, Gert Metrish, Kathy Dohman, Laverne Doll, and Delores Koenig.
"We made our daughter's wedding dresses and prom dresses and I'd even put mine on the manikins and people would ask if they could buy it," said Baierl who also did tailoring and upholstering.
Jean Falk was 17-years-old when she started working as a clerk at Julie Ann Fabrics from 1974 to 1984. "I did everything from helping customers select fabrics and patterns, to ordering ribbons and trim."
Falk said the store was always busy. "That was back in the day when you would see families making christening gowns and wool coats and the schools still had very complete home economic programs." Falk remembered freshmen making peasant blouses out of cotton and seniors who would do completely lined Pendleton suits.
Julie Ann Fabrics quickly developed a 'full service' reputation. "It got to the point where we'd walk and talk people through entire projects," said Falk. "They'd run down to the store and just open a bag and throw it on the counter and go OK we're at this point, what could we do." Falk said she inherited her sewing skills from her grandmother and said when she applied for the job sewing was a prerequisite. "I had been a customer from the day they opened to the day I got hired so they knew," laughed Falk claiming she was 'in the store all the time.'
"We'd work with teachers, planning their curriculum and then we'd work with students who would come in to buy the stuff for their projects." Falk reeled off home economics teachers names like it was yesterday including Ginny Froehlich from Kewaskum, Mildred Doss from West Bend and Mrs. Carol Stoltz from West Bend.
As far as Rosemarie was concerned, Falk said she was 'a wonderful lady.' "I thought it was cute when they said in her obituary she could burn up a motor in a sewing machine long before the warranty and she did, there was nothing she couldn't make or fix. A lot of times she didn't even use patterns she'd just start cutting and pinning and wah-lah there'd be an outfit."
Rosemarie also put her wing around Falk, taking her to the buyers club to pick out fabrics for the seasons and sales reps would ask Falk's opinion to 'get a young point of view.'
As far as pay was concerned, Falk doesn't remember the dollar as much as the discount. "If I made a fall outfit I could have the fabric and pattern and everything for free as long as I display it. So it was more the fringe benefits and the wonderful people I met while working there."
Falk said all of the employees at Julie Ann Fabrics were encouraged to sew outfits for themselves. "The more stuff we made for ourselves and wore the better it was, because people would always say 'what pattern number is that dress' or 'what pattern number is that skirt' so we were always pretty fashion trendy," said Falk who favored working with denim and often envied Rosemarie for her tailoring ability on suits and jackets.
Falk also got to do some modeling. "That meant a lot to me because I knew there was no way I would ever be a New York Ford model but at least I got my hands in it a little bit."
Julie Ann Fabrics had celery green colored carpeting, the bolts of fabric were neatly organized and there was a little corner in the back of the store for kids to play while women sat at a counter with eight bar-stool- like chairs pouring over pattern books. "It was like a hangout," said Falk recalling, 'when we were in the Westfair Mall that was the buzz of the city.'
Often times, Falk remembered Rosemarie sitting across the hall at the Cookie Cone Café. "You'd see Rosie over there with her pattern book and her cup of coffee deciding what she was going to do next," said Falk painting the picture of a typical afternoon at the mall.
The most hectic time of the year was inventory. "You would have to count yards of trim and yards of ribbon and yards of fabric on bolts," said Falk about the project that normally occurred on New Years Day. "They'd run a sale in conjunction with that, like a football widow's sale and get the women in while the men were at home watching football and we'd all be there counting our yards of fabric."
Falk said the store would also 'special order covered buttons and belts.' "If a woman had a velvet jacket and the buttons would be velvet, we'd send them out and have a place cover the buttons and belts with that fabric." Rosemarie worked a lot with bridal parties. "She'd make some head pieces and veils and she'd help them design bridal gowns and dresses and she knew just what you would line with lace and taffeta."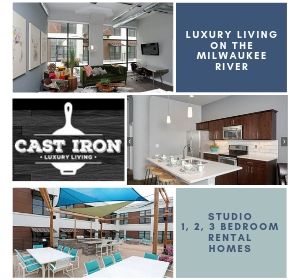 Rosemarie was five years older then Helen, who was in her 30s when they started the business. "Marshall worked every day and Rosemarie and I switched off," said Baierl admitting 'if I had known how much work it was going to be I probably would have said we don't want to do this.'
In 1987 Rosemarie and her husband retired and Julie Ann Fabrics was sold to Linda and Eugene Bodden. The store moved out of the Westfair Mall and into the Decorah Shopping Center where the A&P used to be.
Rosemarie Alf was 80 years old. She died last week Thursday August 16, 2007 under the care of the Kathy Hospice. A Memorial Mass was held Monday at St. Frances Cabrini Catholic Church.