Removal of downtown theatre bridge to start Thursday, April 20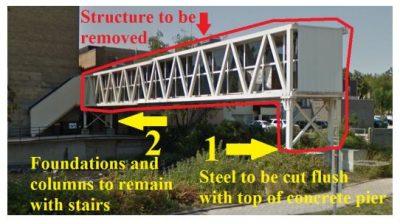 April 19, 2017 – West Bend, WI – The removal of the elevated bridge over the Milwaukee River will begin the week of April 20.  The contractor will begin staging the area within the right of way along the west side of Veterans Avenue.  The general contractor for this project is West Bend Crane, Inc. from West Bend, Wisconsin.
Work will consist of removing the existing bridge structure over the Milwaukee River in large sections and placing in a staging area within the right of way of Veterans Avenue.  A crane will be used to move the bridge structure to the right of way area where it will be dismantled and hauled away.
Please note there may be times some of the parking areas may be utilized for staging equipment or for trucks to haul away materials from the dismantling of the bridge.
Motorists are reminded to abide by all traffic control signs and devices as well as be aware of ongoing construction activities.  Alternate routes should be planned to avoid construction whenever possible.
If you have any questions about this news release, please contact Max Marechal, City Engineer at
(262) 335-5130.
View full press release HERE.