November 26, 2020 – West Bend, WI – Mother Nature was to blame for leveling the small chapel at Enchantment in the Park but manpower helped resurrect it in no time this week.
To say the place was a shambles is an understatement. It appeared strong winds on Sunday got under the roofline of the two-story structure and bodyslammed it to smitherines.
Boards were splintered, plastic was smashed, and screws were bent as remnants of the chapel lay in a pile just up the path from the turn in the creek.
Volunteers from Good Shepherd Church got to work on a warm Thursday afternoon.
Tom Frailing, Mark Frank, Mike Yahr, Mark Peters, and Kevin Yank spent the afternoon hefting walls, dismantling 2×4, and cobbling together what Mother Nature tried to put asunder.
"Helping out is the right thing to do," said Tom Frailing. "After the wind this would best be described as a pile of scrap but we'll get it looking good again."
Slowly but surely the structure started to take shape.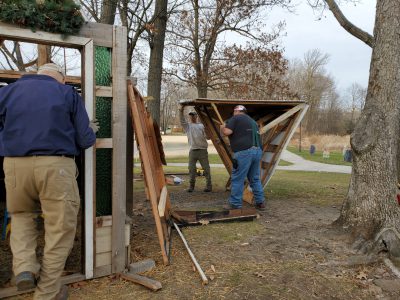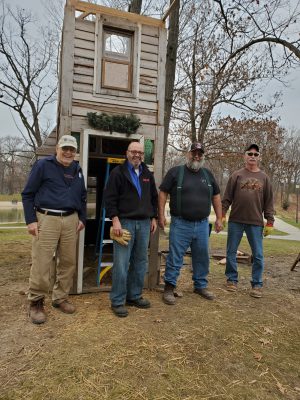 By Friday afternoon the chapel at Enchantment was good to go. Thanks to the volunteers for the time and hard work.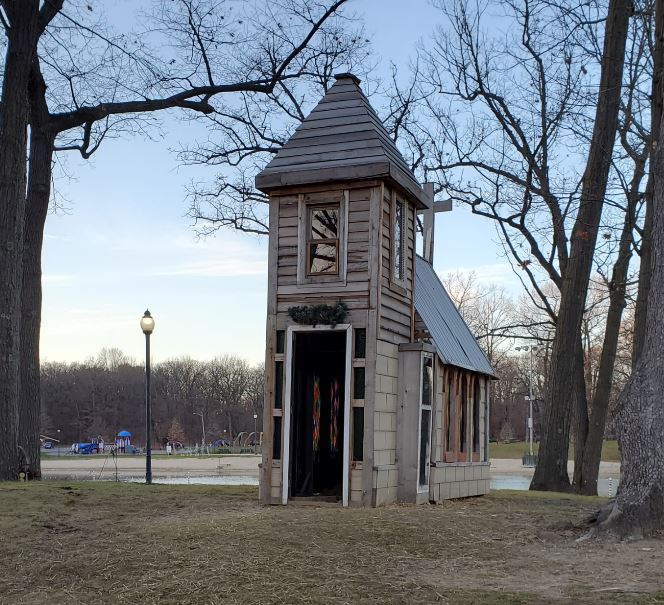 Enchantment in the Park opens November 27 through December 24, 2020
5 p.m. – 9 p.m.  Open daily
Treats and hot cocoa are available nightly courtesy the Washington County Senior Citizens Center.  Horse and carriage rides will be available Friday and Saturday nights.
Fire pit and marshmallows also Friday and Saturday nights.
Click HERE for more information and join us this year at Enchantment in the Park.