VIDEO | Students volunteer to ready Enchantment in the Park for 2018
Oct. 28, 2018 – West Bend, WI – The Slinger High School Skills USA team took charge in assembling decorations behind the warming house at Regner Park as other volunteers worked to ready Enchantment in the Park for its 2018 grand opening.
Enchantment in the Park is a drive thru/walk thru holiday light display founded in 2009 by the four Rotary Clubs of Washington County, West Bend Noon, West Bend Sunrise, Hartford and Slinger/Allenton.
In 2013 the Menomonee Falls Rotary was added to the leadership team. The leadership team also includes members of the community not associated with any of the Rotary Clubs.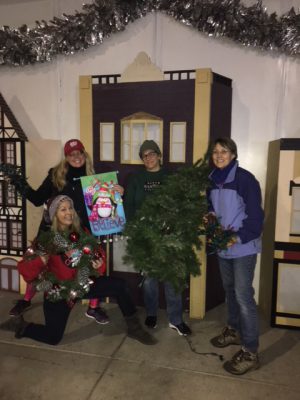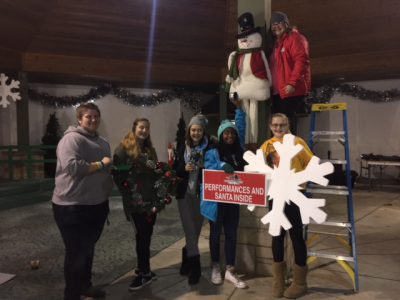 Photos courtesy Sue Garvey
Lori Yahr has built a solid team of volunteers from area organizations and schools to help assemble Enchantment each year.
Volunteers on Saturday included the West Bend drama troupe and club students and parents helped decorate indoors while the West Bend West boys basketball team took care of lighting by the Strachota bandstand.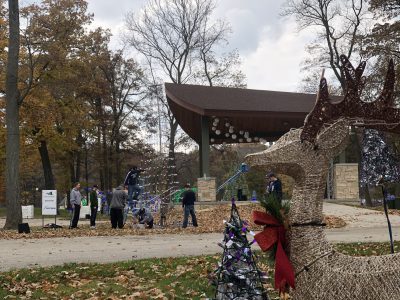 Members of the West Bend Sunrise Rotary helped put up the community tree.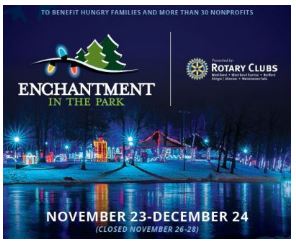 Enchantment in the Park, which raises money and donations for local food pantries, begins Nov. 23 at Regner Park. Click HERE for the 2018 entertainment schedule.