Richfield, WI – A program titled "Milwaukee's Christmas Traditions" will be presented by the Milwaukee County Historical Society on Thursday, Nov. 16, 2017 at the Richfield Fire Hall at 2008 State Hwy 175 at 7 p.m.  The presentation is sponsored by the Richfield Historical Society.
Christmas is a time for memories that stretch back across the years. Christmas is lights and colors, warmth and laughter. It is the feel of heavy brown wrapping paper, the tune of a music box, the smell of fresh pine and of an orange being peeled. Evergreen trees by the millions each year become spectacular symbols of the American holiday. Christmas is a time of favorite things both past and present – a sight or a sound or even a smell can trigger a memory.
The Milwaukee County Historical Society will take us down memory lane recounting the iconic Milwaukee Christmas traditions that so many will remember – Do you remember the Schusters' Milwaukee Department Store Parade? It served to kick off the Milwaukee holiday season the third weekend in November starting in 1927.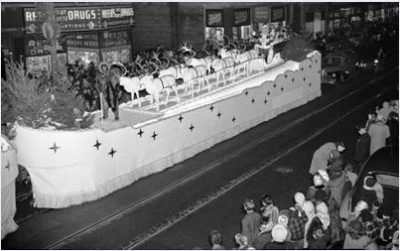 Among the first parade's attractions was the appearance of Santa's live reindeer. Santa's eight reindeer remained a parade staple for many years. Can you name them? – Dasher, Dancer, Prancer, Vixen, Comet, Cupid, Donner and Blitzen – names based on those used in Clement C. Moore's 1823 often quoted poem, "The Night before Christmas."
And, do you remember Billie the Brownie who was first heard over public radio in 1927? Billie was also a creation of the Schuster's Department Store in Milwaukee. Billie the Brownie was heard during the holiday season on WTMJ. Many a Milwaukee-area child sat in front of the family radio listening intently to Billie's account of Santa's preparation for his Christmas delivery of presents for good little children.
These are just a few of Milwaukee's Christmas traditions the Milwaukee County Historical Society will tell us about. There are so many more – such as the lighting of Milwaukee's Christmas tree, a tradition dating back to 1913; the Milwaukee Ballet's yearly presentation of "The Nutcracker" as well as your opportunity today to take a ride on Milwaukee's downtown "Jingle Bus" to view the spectacular downtown Christmas lights.
So, come join us the evening of Thursday Nov. 16 at 7 p.m. at the Richfield Fire Hall to reflect on Milwaukee's holiday traditions and begin this season's events that will become your future memories.
All are welcome! Admission is free with treats at the conclusion of the evening.