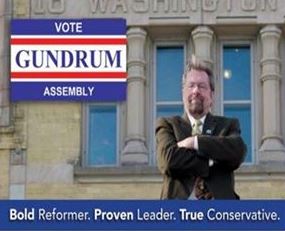 Dec. 19, 2017 – Washington Co., WI – Rick Gundrum will advance to the Jan. 16, 2018  special election following a win Tuesday during the Republican primary in the 58th Assembly District.
According to Washington County Clerk Ashley Reichert there was about a 10 percent voter turnout, with the largest turnout in the Town of West Bend.
Gundrum, who currently serves as Washington County Board Chairman and is also a trustee in the Village of Slinger, officially announced his candidacy Nov. 16.
Gundrum campaigned as a pro-life, fiscal conservative.
Tuesday's victory will be short lived as Gundrum heads into the special general election against Democrat Dennis Degenhardt who officially announced his candidacy Nov. 21.
The special general election will be Jan. 16, 2018.
The election is being held to fill the seat left vacant following the death of Assembly Rep. Bob Gannon.
The 58th Assembly District includes the communities of Slinger, Jackson, Town of Polk, parts of Richfield, Town of Trenton and West Bend.
The term for the seat in the 58th Assembly District expires January 7, 2019.
Next step on County Board: Because Gundrum also serves as the chairman of the Washington County Board he has several options to explore on filling that position, should he win the general election.
Gundrum can choose to serve until the end of his term in April 2018 or he could opt to step down immediately. If that happens then the vice chair, Mark McCune, would move into the position of chairman.
Following his Tuesday night victory speech, Gundrum indicated that should he win in January he would step down immediately from the County Board.
Unofficial election results by community click HERE: