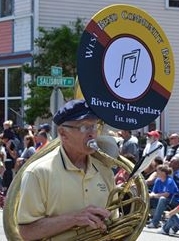 July 17, 2017 – West Bend – On Tuesday, July 18, the River City Irregulars will hold a band concert from 6:30 to 8 p.m. at the Washington County Veterans' Memorial Plaza, corner of Fifth Avenue and Poplar Street in West Bend.
Enjoy a summer evening performance of the West Bend Community Band, the River City Irregulars, on the Old Courthouse Museum Square. Admission is free and all ages are welcome.
Bring a chair or a blanket.