November 29, 2020 – Hartford, WI – Ronald Alvin Fass, 84, of Hartford, Wisconsin died Tuesday November 24, 2020 of complications from Covid-19 at Aurora Hospital in Hartford, WI. He was born February 7, 1936 in Marshfield, WI.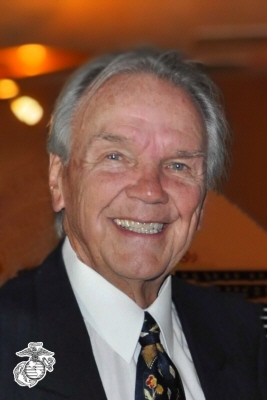 Survived by his wife of 65 years, Darlene Fass (nicknamed "Buv" for Beautiful Love – by Ron); daughters, Vickie (Jeff) Nisleit, Shelley (Robert) Perry, Christina (Kevin) Lindsay, Tammy (Ronald) DeBord, Mary (Joseph) Esposito, Susan (Charles) Huston, along with grandchildren, great grandchildren, nieces, nephews, and dear friends and relatives.
Preceded in death by parents, Alvin and Margaret Fass; Son, Michael T. Fass; siblings, Robert (Mary) Fass, William (Sheila) Fass, Mary (Robert) Wunsch and Richard Fass.
Ronald served honorably as a SGT in the United States Marine Corps from 1954-1957, and he had the privilege of taking part in the Stars and Stripes Honor Flight on September 7, 2019. After his time in the service, he was employed and well-regarded in the computer industry until his retirement at the age of 64.
Ron had an adventurous spirit and a passion for anything and everything outdoors. He was an avid bicyclist and hiker – and a member of the Ozaukee Bicycle Club and News Pedalers – where he made numerous friends. His love of travel brought him to many countries across the globe. He was a voracious reader, having a huge appetite for knowledge.
All of his family members and friends considered him to be one of the most loving, kind and gentle people they know and are grateful for his brilliant wisdom, advice and generosity. Ron will always be remembered for his deep love for his wife – his forever "Sweetie Pie" – as he affectionately referred to her. He loved his large extended family and shined at family gatherings where he could spend time with his many grandchildren and great grandchildren.
Ron's precious granddaughter, Christina Esposito, is receiving excellent care at St. Coletta of Wisconsin.
In lieu of flowers and in memory of Ron, donations can be sent: ICO Christina Esposito at St Coletta of Wisconsin, N4637 Co Rd Y, Jefferson, WI 53549.
A Celebration of Life will be held later in the spring or early summer of 2021, and information will be forthcoming.