April 9, 2021 – Hartford, Wi – Ronald J Marx, 86, of Hartford passed away to join his loving wife Bonnie and the Lord on April 2, 2021.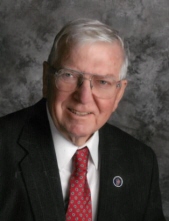 Ron was born September 29, 1934 to Gordon and Irene Marx of Hartford. He was a 1952
graduate of Hartford Union High School. In 1954 he joined the U.S. Army at Fort Knox.
On July 14, 1956 he married Bonnie L Ceman at St. Kilian Catholic Church. He worked as a
Journal carrier, tannery employee, gas station attendant, house builder, and for 34 years at
International Stamping Co (Midas). For nine years he worked at his favorite job, the owner of Westside Beverage in Mayville, WI. During his retirement, he worked part time at Downtown (Hartford) Beverage.
Ron loved to travel, play cards, read, golf, snowmobile, take Sunday drives and go fishing. He enjoyed politics and cooking and he especially loved spending vacation time in God's Country– the Wisconsin Northwoods. He treasured the time spent with his family of eight children and wife Bonnie.
Ron is survived by his children, Richard (Laura), Joseph (Sandra), Cynthia, Robert, Michael,
James, John (Wendy), Christopher (Julie), 11 grandchildren, and 10 great grandchildren. He is further survived by sister-in-law Betty Ceman, Kay Ceman, nieces, nephews and other relatives and friends. Ron was preceded in death by his parents, his wife Bonnie in 2012 and their baby David in 1962.
Funeral Services for Ron will be private and internment will be at St. Kilian Cemetery. The family would like to thank Jackson Crossings and Brighton Hospice for their kind and compassionate care.