April 10, 2021 – Tom Christopherson, 55, passed away peacefully at his home with his family by his side on Sunday, April 4, 2021. Tom was a selfless and generous man who helped anyone without expectation. He was quite the jokester and was always making people smile.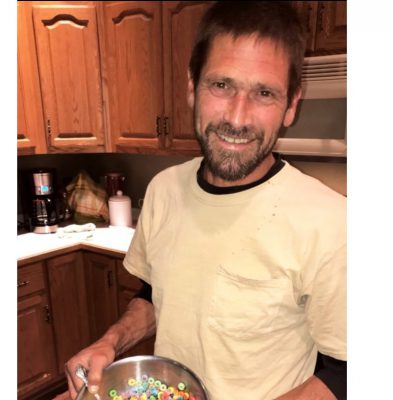 Tom was an avid hunter and had many other hobbies and interests including bee keeping, gardening, especially vegetables. He grew cucumbers, zucchini, squash, beans, pumpkins, and don't forget his tomatoes.
Tom made his own delicious salsa with the tomatoes he grew, and homemade pickles with the cucumbers. He was also known for giving away huge amounts of vegetables. He enjoyed picking morel mushrooms, taking his usual leisurely drive just around the block, and taking chances with scratch off lottery tickets.
He was a man who loved nature and being outdoors. He enjoyed tending to his pigeons and chickens. He was the proud owner of TC Carpentry of Toland. He was a master carpenter. When he wasn't outdoors, working or making people smile he would enjoy sitting in his garage listening to Polka and classic country music enjoying a cold Miller 64. He was notorious for having a huge bowl of Fruit Loops cereal after  dinner or sometimes Kiltie Custard. Most importantly Tom enjoyed spending time with his family and friends.
Beloved husband of Justine (nee Karpinski) married 23 years. Loving dad of Jared (Amanda) and Bella. Adoring grandpa of Ava. Dear son of Donald and Pauline. Loved brother of Tim (Debbie), Tina (Tom Bush) Callan, Ted (Tracey), RP (Jamie) and the late Terry. Beloved son-in-law of John Karpinski and Virginia (Al) Wysocki. Dear brother-in-law of Janine (Ed) Paradowski. Tom also leaves behind many other loving family members and friends.
Tom's family will receive friends on Saturday, April 10, 2021 from 11 a.m. until time of service and celebration of his life at St. Olaf Lutheran Church, W653 Roosevelt Rd, Rubicon, WI 53078, with Pastor Tom Pietz officiating. A dove release will follow. Arrangements entrusted to the Shimon Funeral Home, Hartford, WI. Please share a thought or memory with Tom's family at shimonfuneralhome.com