Final salute to Allenton firefighter Paul Wolf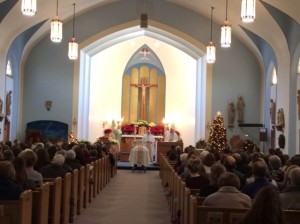 A Mass of Christian Burial was held Monday at 11 a.m. at Resurrection Catholic Church in Allenton for Paul C. Wolf. A member of the Allenton Fire Department for 28 years; there was a strong contingency of his firefighting brethren represented at the service.
Rev. Rick Stoeffel and Rev. Werner Wolf, Paul's Uncle, presided over the funeral Mass.
Pallbearers included Eric Latter, Joe Weinert, Josh Hawig, Allenton Fire Chief John Breuer, Joe Wolf and Eric Wolf.
After Mass, Sue Wolf and her children Emily, Teresa and Adam, walked to the front of the church to share some stories about Paul. Sue was dry and unwavering.
"Family suppers were important to Paul," read Sue. "How was school today – he'd ask. Then the girls would break into español and the rest of us would be lost."
"Paul loved 80s music and the farm and being at home on the farm. He loved to drive cattle. We still have his 8th grade art project – a collage of cows."
"Paul loved the Allenton Fire Department. He loved the camaraderie and found it annoying when I started drinking with the guys."
"My favorite time with Paul was after bedtime prayers with the kids, we'd walk down the stairs. Paul would stand on the floor and I'd be on the bottom step, finally at eye level. It would gross the kids right out."
Paul Wolf rests at Sacred Heart Cemetery.  Sept. 30, 1966 – Dec. 30, 2015