December 1, 2021 – Washington Co., WI – The campus administrator at the Samaritan Home in Washington county issued a statement today, December 1, 2021, authorizing a hold be placed on the mandate issued November 18, 2021, that staff receive a COVID-19 vaccine by December 5, 2021, or lose their job.
In the memo Tanya Walk cites legal action taken by 10 states against the Biden administration.

In a statement by issued in Federal U.S. District Judge Matthew Schelp wrote, "Congress did not clearly authorize CMS to enact this politically and economically vast, federalism-altering, and boundary-pushing mandate, which Supreme Court precedent requires."
Click HERE to read the full 32-page injunction by U.S. District Judge Matthew Schelp
It was just before Thanksgiving when health care workers at the Samaritan Home in West Bend received word from Washington County about a mandatory vaccine requirement if they wanted to continue working at the facility.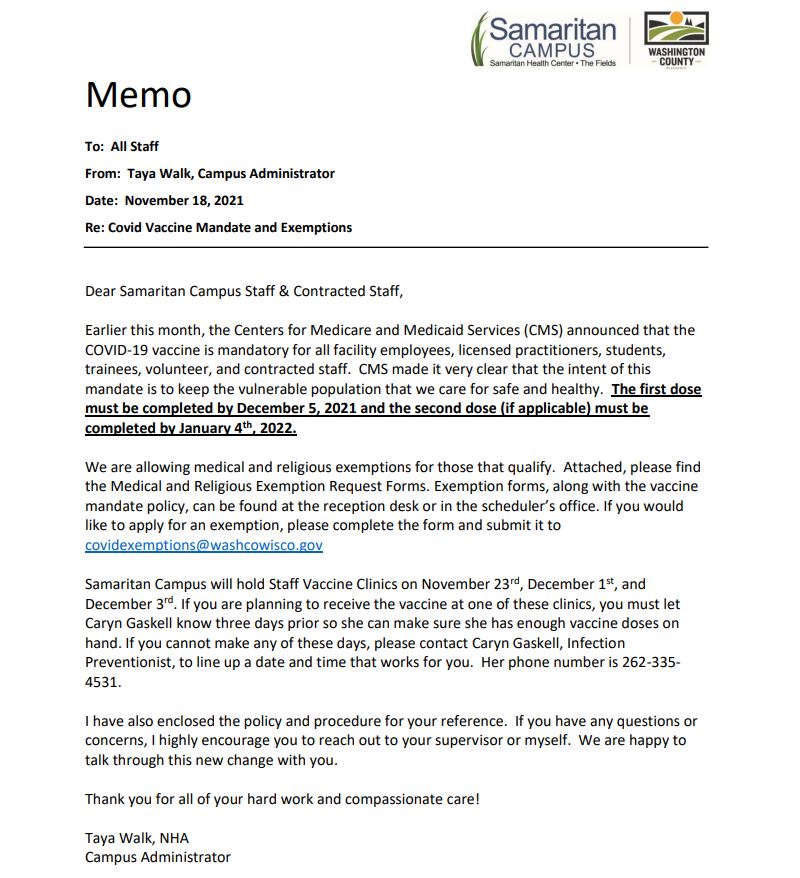 The memo was distributed even though County Administrator Joshua Schoemann and County Board Chairman Don Kriefall issued a signed statement July 30, 2021, saying mandates would not be issued in Washington County.
"Enforcing any kind of mandates or dictating policy within our school systems, businesses, churches or organizations is not our role in county government. After consulting with the Washington County Sheriff's Office and the Washington Ozaukee Public Health Department, we can once again affirm that we will not enforce any such mandates. We encourage organizations to educate themselves and make the best possible decisions."
Click HERE for the full statement.
From July to November, however the situation changed nationally and in Washington County and Schoemann reversed course.
Schoemann said the November 4, 2021, mandate from the Centers for Medicare and Medicaid Services (CMS) required the vaccine or the county had the potential of losing Medicaid funding.  "Which of course, is all that funds Samaritan or the vast majority," he said.  "Basically, either employees get an exemption, either a medical exemption or a religious exemption or, if they don't have the vaccine, they face possible termination."
Fast forward to Monday, November 29, 2021, when Schoemann was contacted about 10 states that sued the Biden Administration over the mandate for health care workers.
The county explored its options and Tuesday evening a federal judge in Louisiana issued a nationwide preliminary injunction against President Biden's COVID-19 vaccine mandate for health care workers.
Schoemann issued a statement regarding the Federal Judges blocking Biden Administration vaccine requirement.
"We have heard from dozens of healthcare workers throughout Washington County, including here on our Samaritan campus, terrified of the prospect of choosing between their conscience and their profession. With this injunction, as well as the more-narrow injunction in Missouri, I am certain there will be successful litigation that will go a long way to ensure that we don't put our healthcare workers in an unnecessary ethical dilemma, and that we don't jeopardize healthcare funding for our poor and elderly in exchange for political wins with ill-conceived mandates. I continue to strongly encourage people to get the vaccine that's best for them as their conscious and personal health allows, and I also strongly support those who object to the vaccine for the same reasons."
District 19 County Board Supervisor Joseph Gonnering said, "Our Constitutional rights and freedoms gives everybody the choice of having their control over their own wellbeing; although I would suggest everybody look into their hearts and do the vaccine, but this is only my view.  Everyone should have their own views, whether it be religious or health, it is up to them.  I was very happy to read the statement made in July by both County Board chair and Josh Schoemann that they would not mandate anything from anybody in Washington County."
District 24 County Supervisor Pete Sorce agreed with Gonnering. "People should be able to make their own decisions," said Sorce.
The memo from the Samaritan Home to staff concludes, "Due to the future of the COVID-19 vaccine mandate remaining unclear at this time we will continue to process medical and religious exemptions in the case the mandate resumes."
This is a working story, and more information will be posted when details become available.