Sarah Malchow joins Cedar Community as new Philanthropy Director | By Carrie Sturn
May 23, 2019 – West Bend, WI – Cedar Community welcomes Sarah Malchow for the newly created Philanthropy Director position. Malchow has an extensive background in strategic and relationship-based fundraising practices, grant writing, donor stewardship and campaign development.
Malchow has a Bachelor of Science degree in political science with a minor in public administration from the University of Wisconsin-Whitewater. She has a certification from Indiana University's Lilly School of Philanthropy and is a member of the Association of Fundraising Professionals. Her past experience includes facilitating resource development; cultivation and solicitation of giving prospects; development of campaigns and communication plans; establishing measurement and program outcomes and strategic resource development including donor and volunteer engagement.
"I believe communities can be judged by how they treat their children and their elders. By this measure, Cedar Community exemplifies a best-in-class organization dedicated to serving our residents with dignity – at the same time caring for them spiritually, physically, mentally and emotionally. I am excited by the opportunity to leverage my years of mission, non-profit and fundraising experience to connect others with Cedar Community's mission. It will truly be an honor to support this important work and it is a privilege to be part of this committed and caring team," said Malchow.
Her most recent work experience includes United Way of Washington County leveraging stakeholder engagement and business plan development efforts to initiate Inspire Washington County as well as facilitation and oversight of United Way's annual community investments totaling approximately $1.2 million in 2018.
As Philanthropy Director at Cedar Community, Malchow will work with the Vice President of Development to develop a comprehensive philanthropy strategy and annual operating plan that promotes mission achievement and financial sustainability of Cedar Community. "Cedar Community is blessed to have Sarah join our Philanthropy team. She brings tremendous skills and experience in fundraising and strategic planning, and she has a passion for the faith-based mission of serving our residents, team members and volunteers," said Nicole Pretre, Vice President of Development.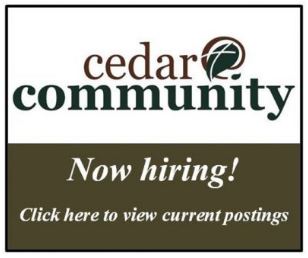 Enjoy, explore and embrace your best life!
Live more at Cedar Community, where their natural settings, faith-based mission and high-quality services afford seniors the opportunity to live a more purposeful, fulfilled life among family and friends. From beautiful homes and apartments for active and independent retirees, to assisted living, short-term care and rehabilitation, skilled nursing and memory loss services and home medical equipment, Cedar Community is the only community in Washington County where people age 55 and better have the peace of mind, knowing the services they may need are right there, provided by a team of professionals they know and trust.