March 1, 2019 – Washington Co., WI – Please stop in to say goodbye to Leah Baughman during Percolate Friday, March 1 – 8 a.m. to 9 a.m. Percolate, a chance for coffee, bakery and conversation, is held at the Interfaith office in West Bend, 2374A W Washington Street.  Come join us!
Baughman announced she is leaving her post to move back up north with her family.
Over the years Baughman has become a fixture at Interfaith and in the community.  Leah is always volunteering at local events. She and her family are often spotting at the Downtown West Bend Farmers' Market or at the local chili cookoff.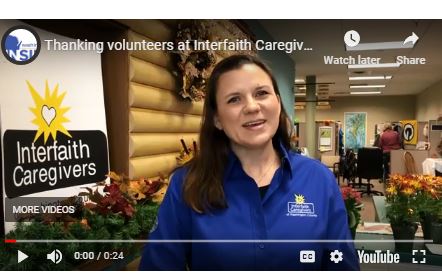 A note from Baughman is posted below.
Dear Interfaith Family,

I wanted to take a moment to let you know I am leaving my position here at Interfaith in the next few weeks. My family and I will be moving to the Northwoods back to my roots and closer to family.

I can't even begin to tell you how much I have enjoyed working at Interfaith, meeting all of the wonderful volunteers and working with some spectacular gals in the office. The past two years has been an amazing experience that has enriched my life and truly warmed my soul to see so many people giving their time and love to brighten the lives of seniors.

Even though I will miss all the clients, volunteers and great people I have met on this journey, I am looking forward to this new challenge and to starting a new phase in life.

Please keep in touch, I would love to hear from you!!

Thank You for everything! I wish you all the best.

Yours truly,

Leah
P.S. Thank You!! Thank You!! Thank You!! I really don't have the words for how much I have enjoyed working with and getting to know you all. This really is the most awesome and kindest group of people I have ever met.