June 6, 2019 – West Bend, WI – Froedtert hospitals including St. Joseph's Hospital Campus in the Town of Polk is going to have a name change. Community names, according to Tom Duncan, vice present and COO of Froedtert South, is the goal.
According to an article in The Journal Times Duncan was quoted saying, "By emphasizing community location and the Froedtert name, we will identify to local residents that they have access across the region to the high-quality service for which Froedtert Hospital is known."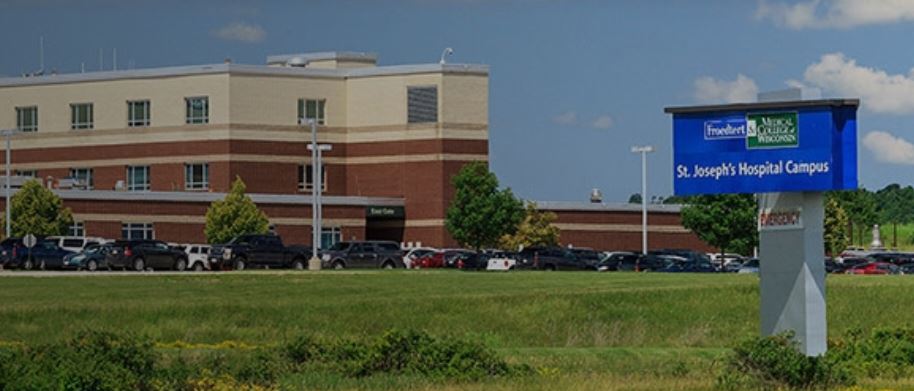 The name of St. Joseph's Hospital dates to the late 1920's when the cornerstone of the original hospital was 'laid in November 1929 and in spite of a rigorous winter, building progressed rapidly and the dedication ceremony took place July 2, 1930.'
At the time St. Joe's was located on the corner of Silverbrook and Oak Street in West Bend.
Former nurses and doctors recalled a community hospital where staff was family.
The news of a name change felt like the next shoe to drop according to former St. Joe's staff including Carol Daniels.
"I knew that would happen; there's no way they would not advertise their business," said Daniels of West Bend.
Shirley Laufer, 80, has been retired from St. Joe's for 13 years.
"It's a sign of the times," said Laufer. "To anybody that's new in the area they consider it Froedtert but you think St. Joe's you think West Bend. I still think the name St. Joe's kinda gives you an idea of where it's at and to people who live in the area will always know it as St. Joe's."
During a St. Joe's reunion in 2017 former employees reveled in the heyday of the local hospital.
Richard 'Doc' Gibson was a doctor at St. Joe's starting in 1955 – 1996. "When I first came here I had a small office on Main Street and then I moved into a nicer office space on the south side and there I practiced for quite a few years," he said.
Doc remembers the old St. Joe's as a "nice functioning hospital run by the nuns."
"Everybody worked together," he said.
Sharon Rennicke was a nurse at St. Joe's in 1971. She started in pediatrics and advanced to the surgery department. "I remember pediatrics was the dungeon of the hospital," she said. "When they were building onto the new hospital our hallway was located such that the bats would come in."
On a history note – here are some details on how St. Joseph's Community Hospital got its start. I believe the 1920 date on the photo below is incorrect. Details are courtesy Froedtert and the Medical College of Wisconsin.
During the first few decades of the 20th Century, doctors treated patients at home. By 1927, the city of West Bend had a population of nearly 4,000 and was in need of a modern hospital to serve the whole community. Doctors, community leaders, and the Sisters of the Divine Savior met and made plans to finance a new 25-bed hospital. So on June 17, 1930, the sisters who were to staff St. Joseph's Hospital moved in. They saw their first patient on July 6, 1930.
The hospital continued to grow despite the Depression, thanks to the hard work of the sisters who, living in quarters at the hospital, worked 12-hour days and took only one Sunday off per month. They took care of patient needs, the cleaning, and food preparation among many other tasks, such as hand-assembling medical dressings.
There were stories at the reunion including things like Sr. Loretta and the accidental baby delivery in the elevator at St. Joe's and how hospital staff reacted during the West Bend tornado April 4, 1981.
In 1941, St. Joseph's Hospital built a three-story addition to provide 32 beds. The government limited construction during World War II, but citizens petitioned the War Production Board and succeeded in getting permission to build. Another addition was made in 1947, bringing the hospital to a total of 97 beds.
The 1930s and 1940s brought pharmaceutical advances, providing penicillin to battle outbreaks of rheumatic fever. And West Bend residents turned to St. Joseph's when two serious polio epidemics hit the 1940s. Doctors made house calls to treat many of the cases. Until the 1970s, general practitioners treated most everything that came their way, whether it was performing surgery or delivering babies. They also alternated emergency calls on one- or two-week rotations.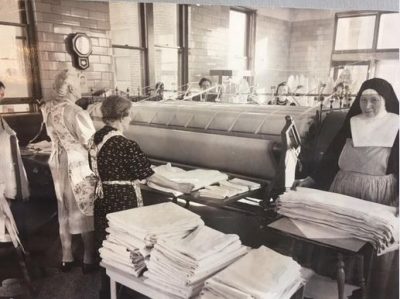 Our nation experienced many changes in the 1960s, and the hospital started the decade as a 100-bed hospital with over 60 full-time employees. In 1967, the hospital was organized as a separate corporation with an elected board of directors and, in-1971, ownership was transferred from the sisters to the community corporation.
A major expansion was announced in 1970 that would bring the hospital to 115 beds. The four-story addition opened four years later. Throughout the years, St. Joseph's responded to the needs of the community. West Bend experienced a deadly tornado in April 1981, and the hospital was filled to capacity in order to care for over 50 of the victims.
In 1988, the hospital established 24-hour, 7-day-a-week physician coverage for emergencies.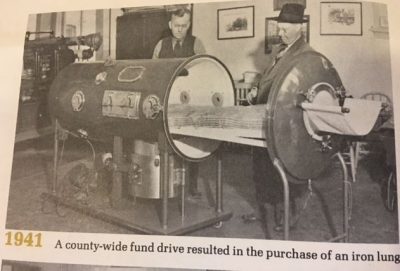 More expansions were made in 1990, as well as a number of new technological advances. Data processing became a necessity, and computer capabilities meant extremely fast, accurate lab results for technologists. In May 2000 a new Cancer Care Center was opened with a state-of-the art linear accelerator.
A major announcement came in 2000 when the hospital board announced plans to design and build a replacement hospital at a new location on Highway 45 and Pleasant Valley Road. The formation of a partnership between St. Joseph's Hospital and the West Bend Clinic to create a new health system followed closely in 2002, along with formation of a foundation.
On August 7, 2005, the new St. Joseph's Hospital opened just one month after the hospital's 75th anniversary celebration.