February 28, 2020 – Washington Co., WI – With a birth to the Championship game on the line, the Wildcats of UWM at Washington County faced off against the Huskies of UWSP at Wausau.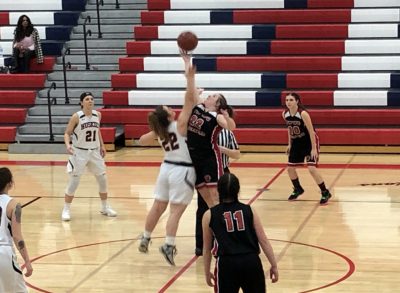 The Wildcats came into the game as the underdog, but their confidence was running high after a Semifinals victory vs UWSP at Marshfield.  The Huskies were ranked #1 in their confidence.
Both teams showed nerves early as they shot poorly from the field to start.  However, UWSP at Wausau jumped out to a 9-2 lead shortly into the game.  The Wildcats responded quickly though.
After some defensive stops, Sarah Best was able to get a 3-point shot to fall, and Anna Wawrzyn cleaned up the defensive glass to limit the Huskies to one and done opportunities.
Both teams began to match each others made shots, but UWSP at Wausau found a little breathing room and took the 29-17 lead into halftime.
The Huskies came out of the half firing on all cylinders.  Their ability to play a full-court game began to overwhelm the Wildcats.  UWM at Washington County continued to fight hard and received great contributions from Paige Airaudi on both ends of the floor.
However, the Huskies continued to overpower the Wildcats.  Eventually, the Wildcats would fall 70-31, and the Huskies would move on to play in the championship game.  Madison Aubry lead the Wildcats on the offensive end with 20 points.
Our Women's basketball family wants to extend their sincerest gratitude to everyone involved with our season.
From our outstanding athletic director Debbie Butschlick to our supportive parents and traveling fan base, our passion for achieving our best went beyond our coaches and players.
We want to say thank you to George Hayes, our WCC commissioner, all of our conference opponents and their great coaches and players, Judy Steffes for promoting our program through the Washington County Insider, and Travis Wilson for his work covering our conference on wccwis.org.