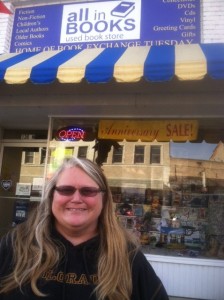 Small Business Saturday is coming up Nov. 28. It's a nationwide attempt to drive shoppers to local businesses.
There are 57 locally owned small businesses in downtown West Bend including All in Books, 136 N. Main Street.
"I was born and raised in West Bend, and when I decided to open my used bookstore, there was no other city that I would rather be in," owner Betty Bartelt said. "The West Bend community is very unique, friendly and caring. Our store takes unwanted books and finds them a home. We are family owned and most of the money we earn goes to other locally-owned small business, because we strive to keep the money in our community.
"Our family is very proud to have our business in Downtown West Bend and to be part of the community of West Bend."
All In Books Used Bookstore
Home of Book Exchange Tuesdays!
136 N. Main Street
West Bend WI 53095
262-334-2836
More information at http://www.allinbooks.net/
Remember to shop local!