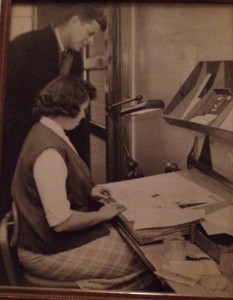 Today, Nov. 22 is the 52nd anniversary of the death of President John F. Kennedy.
The 35th President of the United States was assassinated in 1963 while riding in a motorcade in Dallas, Texas.
The story about JFK's visit to West Bend has generated quite a few comments as people remember where they were when JFK was assassinated.
Here's one note from Jeff Wolf.
Here is a picture of JFK with my mom, Rosie Wolf. I believe it was taken the same day as the West Bend visit. He was also in Port Washington at the Ozaukee Press where my mother worked.
This picture hung in our house for decades after the assassination.
She didn't talk about the experience much. Only that he was a beautiful soul and when he died she cried and still did every anniversary of the assassination until Alzheimer's took those memories away.
She died in 2010 after a five year battle with the disease.
Photo courtesy Jeff Wolf.