Signage in place for new Landmark Credit Union
September 24, 2019 – West Bend, WI – The signage is in place at the new location of Landmark Credit Union in West Bend.
The credit union will soon be moving into the former Bank Mutual location, 1526 S. Main Street in West Bend.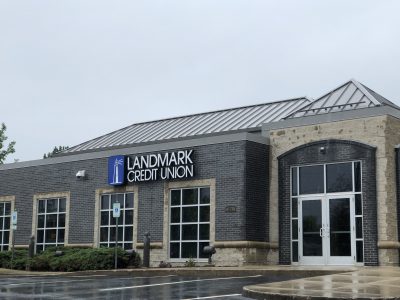 The property on S. Main Street sold to ENDF3DK LLC on Sept. 27, 2018 for $1,065,420.
The parcel was last assessed at $1,563,000.
A spokeswoman for Landmark Credit Union, based in New Berlin, said the property is being remodeling.
A sign at the Landmark Credit Union branch inside Pick 'n Save south is posted below. The credit union will close Saturday, Oct. 12 and open in the new location on S. Main Street on Monday, Oct. 14 at 9 a.m.
"It will match the look and feel of the other branches we have," said Katie Monfre, communications manager for Landmark Credit Union.
"It offers our members a number of advantages including private offices, a drive-thru lane, a drive-up ATM and it will give us both an in-store presence in West Bend and one location as a stand-alone branch."
Landmark Credit Union is currently located in the Kroger Pick 'n Save stores in West Bend. A larger, standalone branch is located at 1400 Schauer Drive in Hartford.