Washington Co., WI – Spring elections will be April 4, 2023 and potential candidates are currently collecting signatures.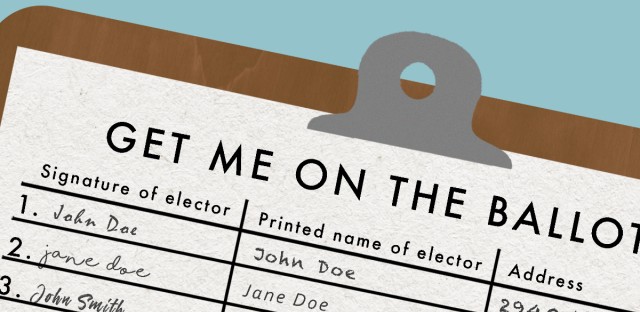 In the city of West Bend the even-numbered aldermanic districts are up for election as well as the mayor's seat.
Dist. 2 – Mark Allen
Dist. 4 – Randy Koehler (announced he will not be running again)
Dist. 6 – Tracy Ahrens
Dist. 8 – Aaron Zingsheim
Click HERE to SUBSCRIBE to FREE local news at
In the city of Hartford residents are invited to take out papers for the Spring, 2023 election for positions on the City Council.
The three Alderpersons who have seats on the ballot include:
District 1 – Jeff Turchi
District 2 – Dennis Hegy
District 3 – Kyle Sikora
Potential candidates have until Tuesday, January 3 at 5 p.m. to submit completed
papers with the mandatory 20 signatures from those in your district.
It is strongly suggested all papers get handed in well before the deadline to give staff ample time to validate signatures.
School board elections will also be on the April 2023 ballot. No signatures are necessary to file to run for school board.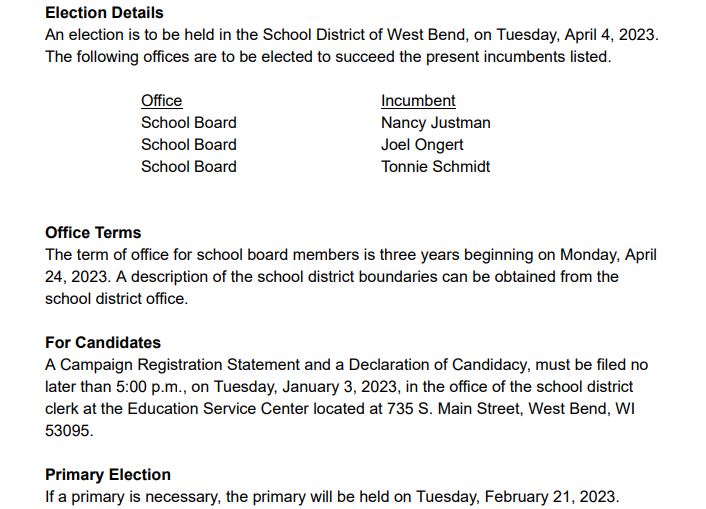 There is also a seat open in April 2023 for Mid-Moraine Municipal Court judge.
So far, incumbent Christine Ohlis has filed papers. Ohlis declared her candidacy November 14, 2022. She filed her Campaign Registration Statement on November 22, 2022.
There is a race in Washington County Circuit Court Branch 1.
Attorney Russell Jones already formally announced his candidacy to challenge incumbent Ryan Hetzel. It was May 2022 when Governor Evers appointed attorney Ryan Hetzel to fill the vacancy created following the resignation of Judge James G. Pouros.
Hetzel will complete a term ending July 31, 2023.
There is also a major State Supreme Court race on the April 2023 ballot.
Justice Patience Roggensack will not seek another term next year; the term is for 10 years.
Candidates include Dan Kelly, Dane County Circuit Judge Everett Mitchell, Milwaukee County Circuit Judge Janet Protasiewicz, and Waukesha County District Judge Jennifer Dorow.
If a primary is needed, that will be February 21, 2022.
This is a working story, and more information will be added when details become available.