Sisters give birth within a day of each other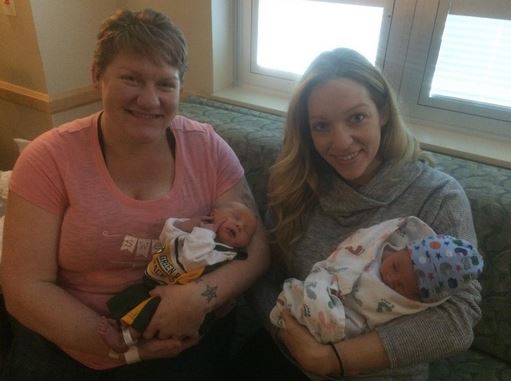 Nov. 7, 2017 – West Bend, WI  – Sisters Bridget Grover (left), of Mayville, and Brittany Moll (right), of West Bend, have shared many experiences over the course of their lifetimes.
Now they can add giving birth to that list, as each recently give birth within 18 hours of each other at Froedtert & the Medical College of Wisconsin St. Joseph's Hospital, West Bend.
Despite the proximity in birth times, the cousins share neither the same birthday nor even the same birth month.
Bridget (husband James) was due Nov. 7, but Shalyn Fay arrived Oct. 31 at 10:32 p.m., weighing 6 pounds, 12 oz.
Brittany (husband Jeremiah) was due Nov. 3, and Noah Lee was born Nov. 1 at 4:26 p.m., weighing 8 pounds even.
Although Brittany was the first to learn she was pregnant, she didn't share her news immediately with Bridget when Bridget announced she was pregnant after eight years of waiting for a baby. "I was ecstatic for her," Brittany said. Noah is the third child for Brittany and Jeremiah.
Bridget also went into labor first, followed shortly thereafter by Brittany. In fact, Brittany even visited Bridget, James and Shalyn in Bridget's room while in labor with Noah, taking advantage of the opportunity to hold Shalyn before giving birth herself.
Both sisters look forward to sharing their babies' milestones together as they grow up.
Froedtert & the Medical College of Wisconsin St. Joseph's Hospital, founded in 1930 by local doctors, community leaders and the Sisters of the Divine Savior, is a full-service hospital serving residents of West Bend and Washington County. St. Joseph's Hospital specializes in women's health and birthing services, cancer care, surgical procedures and rehabilitation services. It's part of the Froedtert & the Medical College of Wisconsin health care network, which includes four community hospital campuses, more than 1,600 physicians and nearly 40 health centers and clinics, drawing patients from throughout the Midwest and the nation.