Six people from West Bend involved in balcony collapse in Florida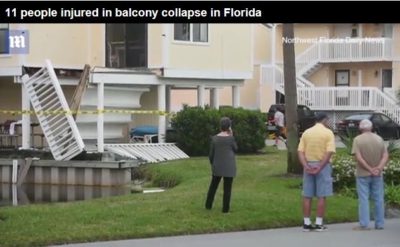 March 4, 2017 – West Bend, WI – There was a local tie to a bad accident in Destin, Florida this week as 11 people, including six from West Bend, were injured when a second-story balcony collapsed.
According to DailyMail.com the accident happened as the group was on the balcony celebrating an 82-year-old's birthday.
Dick and Ruby Stommel from Holy Angels in West Bend were at the gathering.
Dick, who used to drive for UPS, said he was the only one "not on the deck."
Stommel's wife Ruby suffered a fractured ankle and injuries to her back.
Bernie and Mona Werner of West Bend were also injured. Mona suffered a broken leg and fractured her back. Bernie, who used to work for Jecklyn Shoes, reportedly had a broken ankle.
Wally and Gladys Wenzlaff  of West Bend were also on the deck but only received bruises.
The cause of the accident remains under investigation.
Photos courtesy DailyMail.com