Slinger and Hartford snowboard teams cap an amazing weekend at Tyrol Basin | By Delaney Braun
February 3, 2020 – Slinger, WI – It was an eventful three days for the Slinger and Hartford snowboard teams.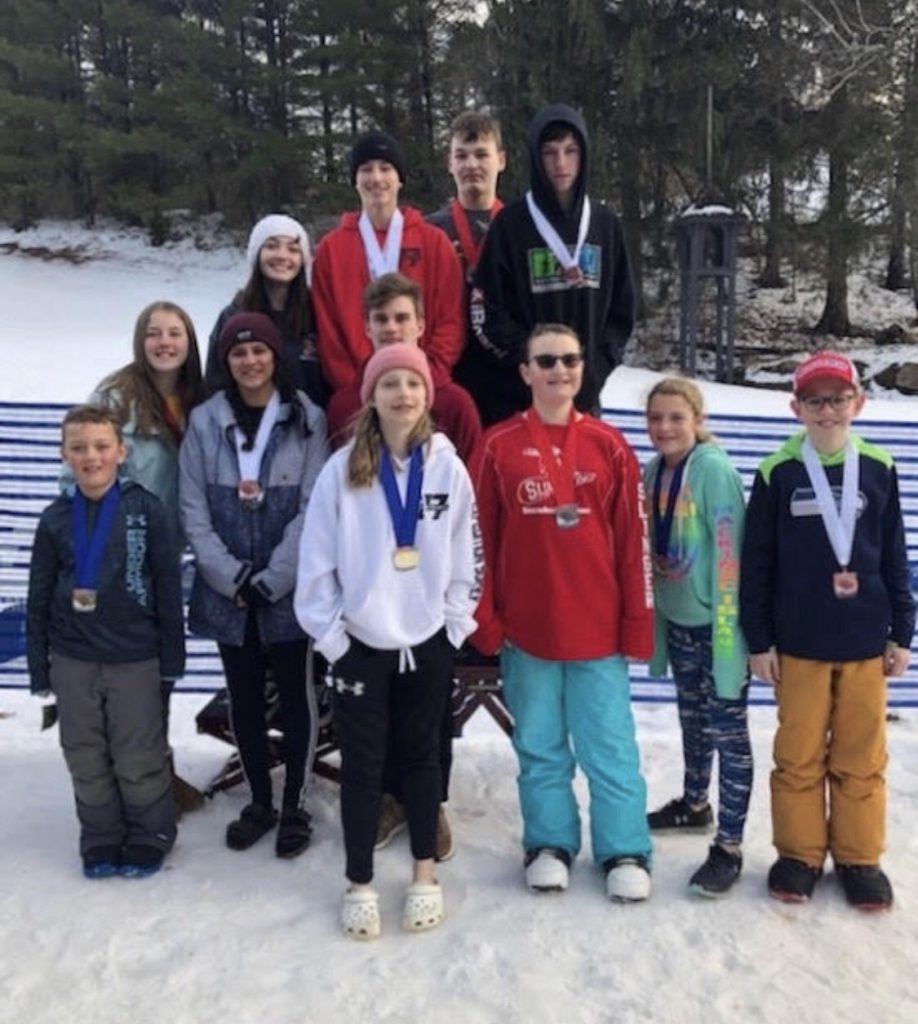 This week's medalists included (front row) Jax Wiedmeyer, Emily Whealon, Marisa Reyes, Emma Smith, Brady Jackson , Kennedy Wiedmeyer, (back row) Sophia Parkinson, Ethan Smith, Joe Hefter, Henry Wolf, and Jack Bullis. This is the last race weekend of the season for the middle school racers, but the high school racers will be racing at Mount La Crosse in two weeks. Medalists not pictured include Luke Schmitt, Kallie Weyer and Mickey DeLong.
Crash Flairty also received a medal for Conference Sportsmanship Award.
This weekend the teams trekked out to Tyrol Basin, in Dane County near Mount Horeb, and the team had an awesome conclusion to the season.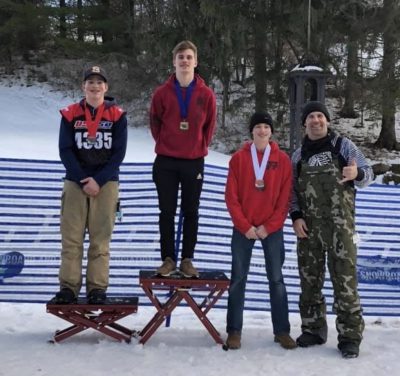 The racers had another special guest visit them. Nick Baumangartner is an Olympic boarder-cross racer who handed out medals to the winning racers.
We have gotten the final WIAA snowboarding results this week, and boy was it impressive. For the men's season overall in slalom, Cole Rummel from West Bend took home the silver, and Slinger's Ethan Smith took home the bronze.
Smith has been working very hard this season. He has been setting goals from the start and he delivered his best performance this season.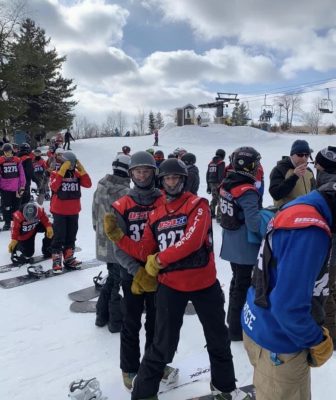 Brady Jackson also took fourth. He has been a strong racer; extremely ambitious and has no fear. It is truly amazing having these two on the team.  Notable mentions go to Ethan Benedict, taking fifth, Brian Pomeroy, taking seventh, and Jack Felix taking ninth overall; all of who attend West Bend High School.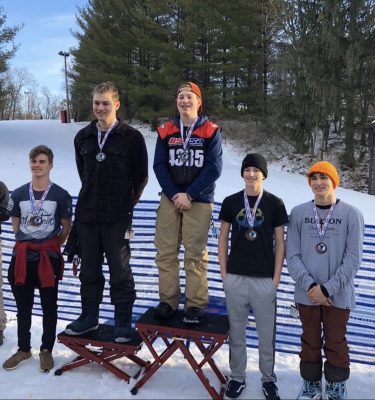 In men's giant slalom and boarder cross, the standings stay the same. Benedict moved up to the fourth spot in giant slalom, and Cole Rummel took first in boarder cross. Pomeroy took fifth in giant slalom too.
For the Hartford and Slinger girls, they dominated this season. The have swept the podium with the ladies taking first in all three events. Marisa Reyes, a junior at Slinger High, took first overall in every event. Reyes is a confident racer on the course, and is an awesome teammate to everyone. Kallie Weyer took second in both giant slalom and slalom overall as well.
There was a special event for high school racers at the Mount La Crosse Cup this Monday. We would like to congratulate the Slinger and Hartford girls for taking home plaques to commemorate their big win this season.
Both teams will be training at practice this week to prepare for the state race; the final race of the season. The top 10 boys have yet to be announced and the girls will accompany that team.