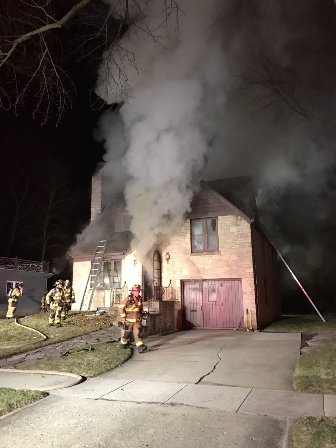 April 1, 2017 – Fond du Lac, WI – Fire damaged a home at 386 Ledgeview Ave. in Fond du Lac on Saturday morning.
Fond du Lac Fire Chief Peter O'Leary said the call came in before 5 a.m. about a report of smoke in the area of Johnson Street and Coffman Avenue.
He said while they were investigating that they got another call pinpointing the source of the smoke. Someone delivering newspapers reported smoke coming from the home.
O'Leary said the blaze started in the basement and burned up through the first floor.
Chief O'Leary said they were able to access the basement through the garage to put out the fire.  A neighbor, Scott Louks said the man living in the home drives truck at night and wasn't there when the blaze began.
No injuries were reported. Louks said the fire makes you appreciate city services and the true professionalism of the firefighters.