Slinger/Hartford boarder cross bring home the hardware | By Delaney Braun
January 26, 2020 – Slinger/Hartford, WI – It was another awesome weekend for the Slinger and Hartford Snowboard teams. This weekend was solely the boarder cross event and racers were successful Saturday and Sunday.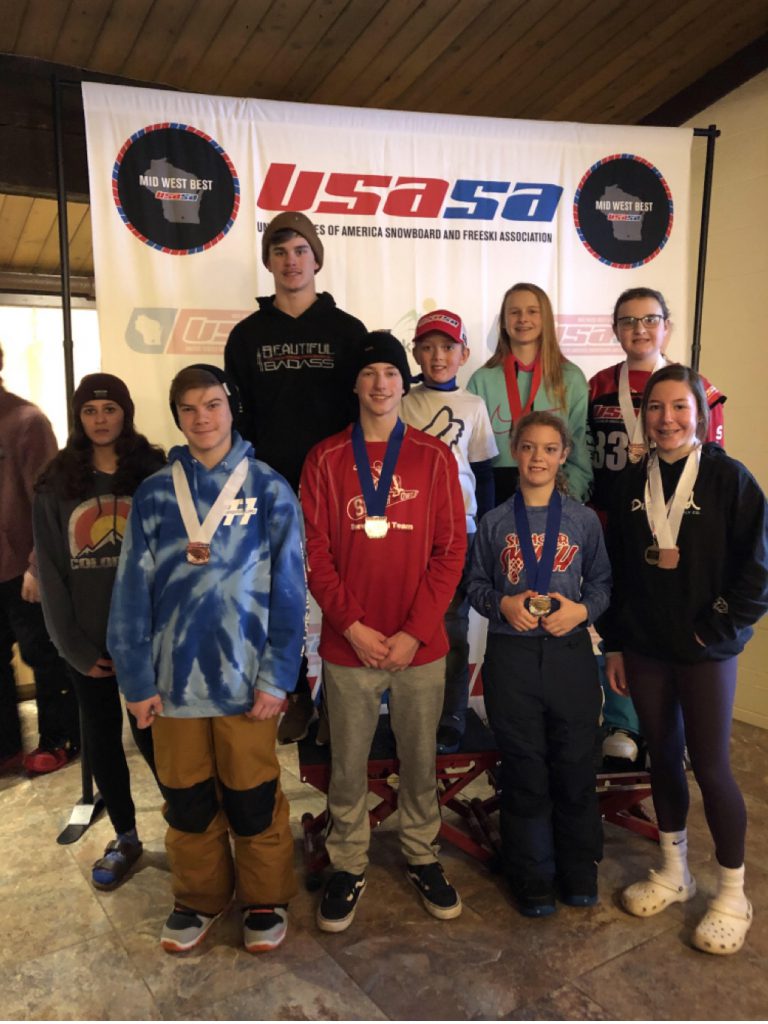 Medalists included Marisa Reyes, Ethan Smith, Brady Jackson, Sophia Parkinson, and Kallie Weyer from the Slinger high school team, and Gavin A, Kennedy Wiedmeyer, Olivia S, McKinley DeLong, Christian Flarity, Joe Hefter, and Jax Wiedmeyer from the middle school team.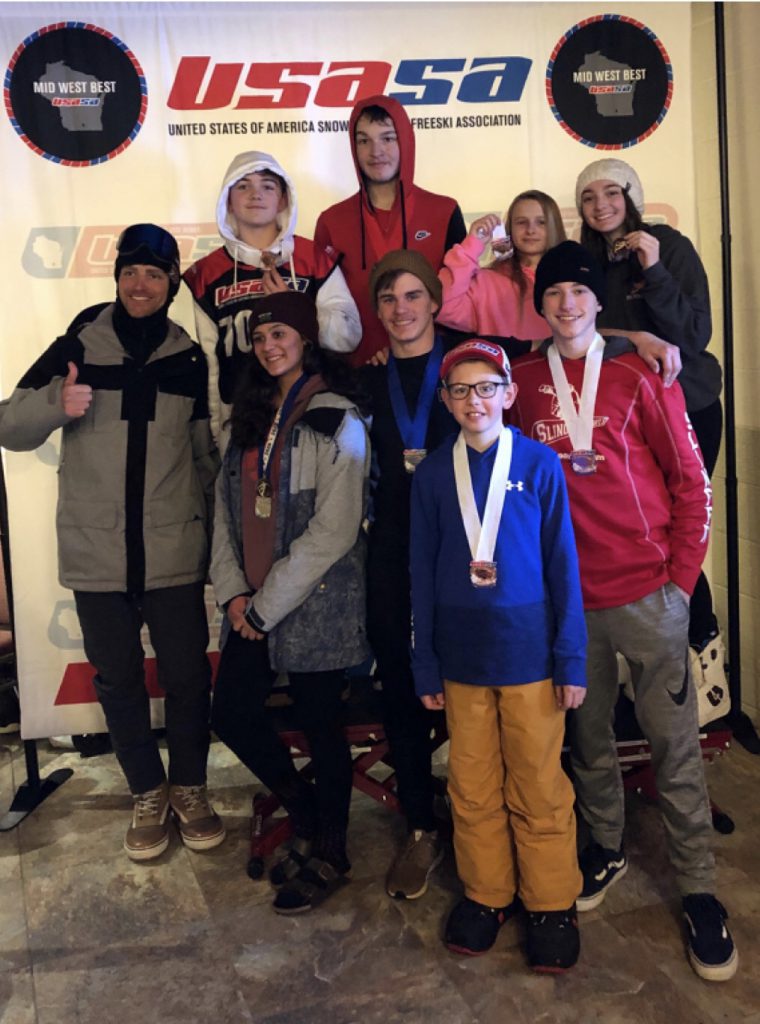 On Saturday, the podium was swept in the Youth Men division, all racers coming from Washington County. Honorable mention this week goes to Ethan Benedict, who took second in boarder cross. Benedict is a sophomore at West Bend West High School.
For a high school conference result update, Slinger is very successful. Slinger's Ethan Smith is in second overall in men's slalom, with Brady Jackson falling the slightest bit behind landing in third. Both boys have the same amount of points; there is only a 3-second difference between their final total.
For West Bend, Cole Rummel is crushing the conference with a total of 51 points, with teammates Ethan Benedict in fifth, Jack Felix in ninth, and Brian Pomeroy tenth.
Giant slalom standings are very similar for the men, but Isaac DeWalt is making a name for himself and currently in 10th place in the conference.
For the women, the entire Slinger team is in the top 10; a huge accomplishment for the hard-working ladies.
For women's slalom, giant slalom, and boarder cross, Slinger tops all schools in the conference with a whopping 36 points taking first overall. For men's slalom and giant slalom, Slinger is in third, and in boarder cross, is in second.
This course at Alpine Valley Ski resort looked in perfect condition. The snow wasn't too slick, nor too sticky. The competition this weekend between racers was full of tension, but everyone in every division had great sportsmanship.
The Midwest Best had a special guest handing out medals. Phil Smage is a Nitro Circus athlete, who suffered an awful injury from snowboarding. He is an inspiration to many racers because of his comeback from a major injury.
Slinger would like to thank Jenn Flarity and her company Shrinking Buffalo Production for using her amazing photography skills to get some awesome shots this weekend of the Slinger racers.
About the Author Delaney Braun: My knee is feeling good lately. I'm really looking forward to surgery, so I can be on the road to recovery. I am especially missing racing. It is by far my favorite time of the year.
Everyone always ask me why I love snowboard racing so much, and why it's so important to me. I'm missing it because I love the connections made with the people. I went into the Midwest Best in 2016, knowing barely anyone, and now four years later, I know practically everyone.
Every single person I have met through snowboard racing has been spectacular and so supportive. Most of my friends are from other schools too, so the only time I get to see them is through racing.
My favorite friends I have made are my team's competition, and that is something that really sticks out to me. Nobody cares who you race for, the competitors look past that. The whole conference feels as if we are one family, and nobody takes the competition too seriously. When the team goes out to Colorado at the end of the year for the national competition, we all really only know and depend on each other, and that is really where all the friendships develop. It's a foreign place for all of us, so it doesn't matter what grade you are in, what school you go to, or how skilled you are at snowboarding, we are all a family, and that is what I am missing the most. I want all my racing friends to know that I am cheering them on, even though I am not there with them.