January 30, 2020 – Slinger, WI – The Slinger School Board thanked board member Jennifer Haluzak for her six years of service as she stepped down from her position. Haluzak and her husband are moving to Georgia.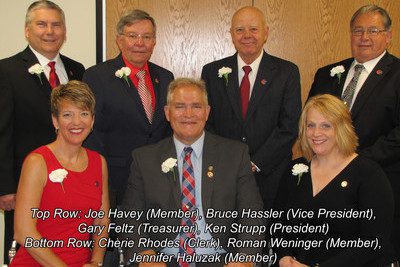 Haluzak's seat is being filled by David Zukowski. He was selected by the current six board members. Four people applied for the post including Zukowski.
Zukowski was sworn into office and will complete Haluzak's term which ends in April 2020.
There are currently five candidates who have applied for two open seats on the Slinger School Board including Bruce Hassler (Incumbent and Vice-President), Jen Novotny, Jody Strupp, Jeff Walter and David Zukowski (Interim Incumbent).
There will be a February 18 Primary Election to trim the number of candidates down to four as required by state statutes.
Only four names are allowed on the ballot for the April 7 election.
The five candidates' biographies are listed on the Slinger School District Homepage. Click HERE to read about the candidates.
A Community Forum will be held Tuesday, March 24 at 6:30 p.m. in the Slinger Middle School cafeteria. The forum is designed to provide community members an opportunity to meet the candidates and ask them questions about their candidacy.
April 7 is the election to determine who will gain the two seats on the Slinger School Board.
Details courtesy Slinger Superintendent Daren Sievers.