January 2, 82022 – Washington Co., WI – Community support around Washington County is taking on a life of its own as neighbors cheer the upcoming competition for local Winter Olympians Jordan Stolz, 17, a speedskater from Kewaskum and 18-year-old snowboarder Courtney Rummel of West Bend.
Local Special Olympians are jumping on board with enthusiastic support. Mary Grover is a tremendous local athlete. Her bocce team competed at the state tournament.
Ben Werner is a multi-sport Special Olympian. He's dominated on the volleyball team and has a strong interest in golf. Ben also took home a gold medal in softball.
Click HERE for more articles about Washington County Olympians

Jordan Stolz and Courtney Rummel.
The St. Vincent De Paul team threw out a huge cheer of support. Be sure to look for your red, white, and blue for the upcoming Winter Olympics at St. Vincent De Paul.
Courtney Rummel will be representing the United States in Beijing as an official member of the US Olympic Snowboard Slopestyle and Big Air Team.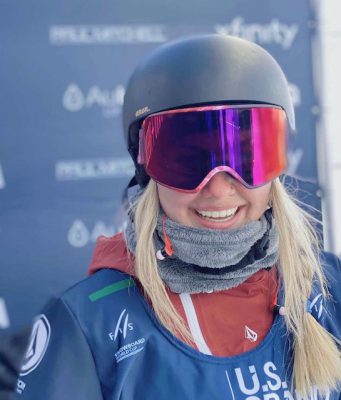 The team at Eaton's Fresh Pizza in West Bend flexed its muscles for the local Olympians.
The crew at American Companies gathered to show its support for Rummel and Stolz.
Jordan Stolz is going to 2022 Winter Olympics in Beijing for speed skating. In January he broke two Pettit Center skating records, including the 1000-meter heat record (1:07.62) previously held by four-time Olympic medalist Shani Davis since 2005.
Feel free to submit your photo showing support for Washington County athletes at the upcoming Winter Olympics in Beijing, China. Broadcasts will begin February 3, 2022 on NBC.