Feb. 2, 20178- West Bend, WI – Great were the corporal and spiritual works of mercy accomplished by the Italian Immigrant to Americas, St. Frances Xavier Cabrini. She began orphanages which grew into schools for women. Hospitals sprouted as a result of her contact with the sick. By the end of her life she had established 67 institutions to serve the poor.
The Mother Cabrini Award has been presented to a staff member at Saint Frances Cabrini since 1989 making this the 28th year the award has been presented.  Nominations for consideration are made by staff members by criteria based on Mother Cabrini's life.  Those qualities are:
Perseverance:  The Spirit and Will to proceed on, despite difficulties or obstacles
Missionary Zeal:   A great desire to reach out to others
Simplicity:  A desire to live an unencumbered life, looking more to values
Educational Mission:  An attitude that demonstrates love for children
His peers had the following things to say about this year's recipient who is in his fourth year working at Saint Frances Cabrini School:
"He finds ways to connect with all of his students by offering his time and talents well outside of the typical classroom time"
"Brian lives a life of visible faith.  He always offers a helping hand when needed – both to other teachers and to his students."
"He lives and communicates simple Catholic values in the ways that he conducts himself and in the ways that he interacts with others."
"Brian is an effective and innovative teacher."  He supports his students by "going to their games.  He wears costumes to represent different historic events and ideas.  He always has time for students – including those that have graduated and returned to visit him."
Brian is a positive person who truly shares the gifts God has given him and recognizes the gifts God has given others.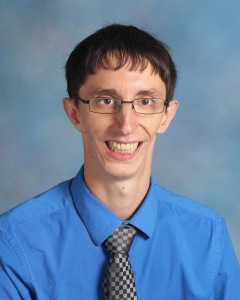 We are proud to announce that this year's Mother Cabrini Award selection is middle school social studies teacher, Brian McElmeel.