St. Peter Catholic School in Slinger receives school safety grant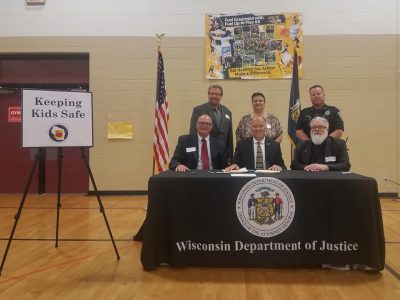 July 23, 2018 – Slinger, WI – St. Peter Catholic School in Slinger has been awarded a $20,000 school safety grant.
Attorney General Brad Schimel, Rev. Rick Stoffel, and Paul Rogers, Pastoral Associate, signed the documents this month; present as witnesses were Cheryl Jaeger, Principal/Marketing Director, State Representative, Rick Gundrum, and School Resou
rce Officer Michael Sutter of Slinger Police Department.
The grant will be applied to security doorlocks, electronically-monitored entrances and communications equipment to help ensure the security and safety of our children and youth.
A hat tip to Rogers and Jaeger "
for their hard work and willingness to undertake the adventure of grant-writing, learning the skills and techniques in an "on-the-job" fashion; many thanks also to Daren Sievers and his support staff at Slinger's School District for invaluable assistance and support they gave us; good things happen in communities that care and collaborate one with another."