Staff Sgt. Alexander Becker of West Bend awarded First Oak Leaf Cluster
July 1, 2019 – West Bend, WI – A 2011 West Bend High School grad has received the Air Force Commendation Medal for Outstanding Achievement and the First Oak Leaf Cluster.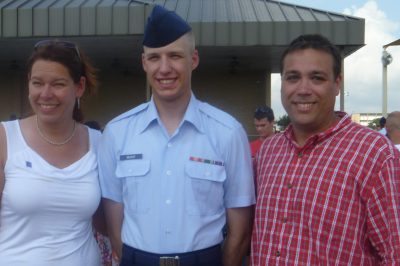 Staff Sergeant Alexander J. Becker distinguished himself by outstanding achievement as Special Air Mission Flying Crew Chief, 89th Maintenance Group, 89th Airline Wing, Joint Base Andrews, Maryland.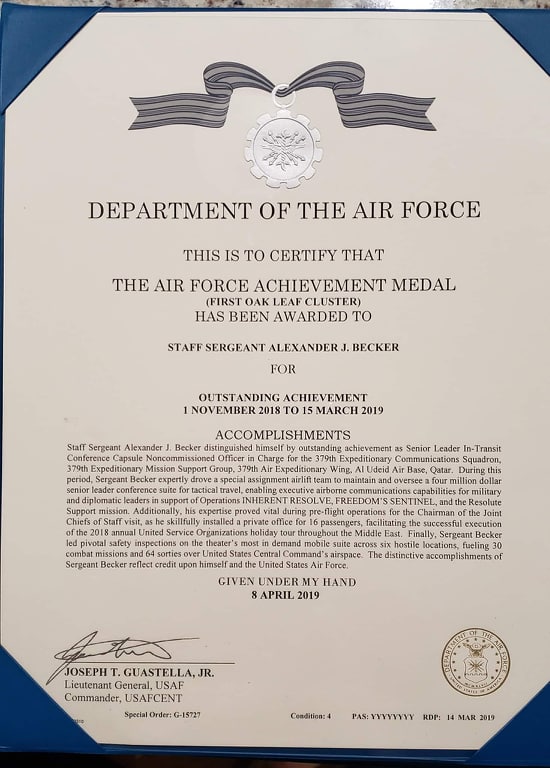 During this period, May 7, 2018 – May 10, 2018, Sergeant Becker served as the Flying Crew Chief in support of a White House-directed, close hold mission transporting the Secretary of State to Pyongyang, North Korea to negotiate the release and transfer of three American detainees.
While taxiing out of Yokota, Japan, en route to Anchorage, Alaska, Sergeant Becker was notified of a thrust reverser discrepancy. He quickly responded to the fault, alerted the crew to return to parking and deactivated the faulty thrust reverser. His actions enabled the Secretary of State to rendezvous on schedule with the President of the United States at Joint Base Andrews for a repatriation ceremony in honor of the American detainees.
The airmanship and courage exhibited by Sergeant Becker in the successful return of the three American detainees under unprecedented situational conditions demonstrated superior technical proficiency and outstanding professionalism.
His personal efforts were instrumental in the safe, comfortable, reliable, connected and protected airlift of Presidential envoys and significantly contributed to the effectiveness and success of the Air Force diplomatic mission.
The distinctive accomplishments of Sergeant Becker reflect credit upon himself and the United States Air Force..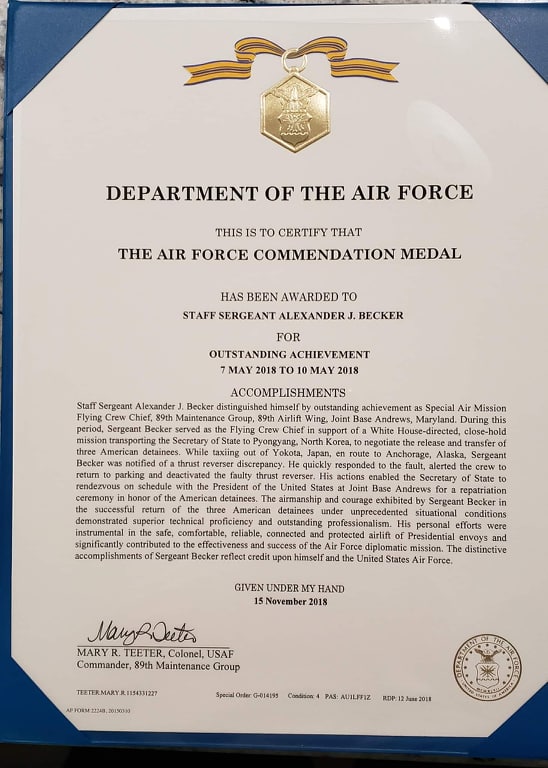 Becker was recently promoted to the rank of Tech Sergeant. He is now TSgt Alexander J Becker, Special Air Mission Flying Crew Chief
89th Maintenance Group, 89th Airlift Wing, Joint Base Andrews, Maryland.
"We couldn't be more proud of him and his accomplishments at the young age of 26," said Paula Becker. "Not only in his duty as TSgt in the USAF, but more importantly he has just turned out to be a great young man any parent would be proud of; humble and kind. He is a wonderful and caring husband to his beautiful wife Taylor, owns his first home in Maryland and Alex never forgets to call home on holidays and special occasions. Not a text…a call!"
Becker was also awarded a medal (First Oak Leaf Cluster) for his work overseas this winter.
Becker's parents include Paula and Jim Becker and Laura and Terry Peters of Slinger.