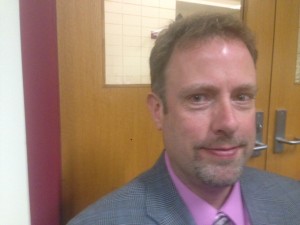 The mayor of Hartford announcing tonight Steve Volkert is the new city administrator. Volkert, who will take over January 1, 2016 for retiring administrator Gary Koppelberger, has signed a four-year contract for $115,000.
Volkert, 48, has been the assistant city administrator and human resources director in West Bend since February 2013; he replaced Warren Kraft. "This was a very difficult decision," said Volkert. "I did not seek this opportunity, it sought me."
Volkert said it was flattering to be asked into the mix. "I shook off the request a couple of times," he said. "But in the 11th hour their representative came back to me and said we could get this done."
After the first interview Volkert was called in for two more meetings. "I was honored and humbled to be called in," he said. "I really enjoyed the process because I had everything to gain and nothing to lose."
Volker has been in West Bend for more than two years and said he really loved his job. "I love the relationship I have with West Bend and the people I work with are absolutely phenomenal and they're very, very good at what they do," he said.
Volkert met with department heads in Hartford and felt an overwhelming feeling of professionalism and welcoming. "They're a really down-to-earth group," he said. West Bend Mayor Kraig Sadownikow said the city will now post its open position, set up an interview committee to narrow the list of candidates and have the full council interview the finalists.
Volkert's last day will be Dec. 31, 2015. He said he is eager to move into Hartford and has two years to do so according to his contract. "They want someone to be the face of the community and really be involved and that's one of the things I enjoyed at my other jobs in Winneconne and Omro," he said. "I'm looking forward to building relationships and I feel that's what the administrator's job is all about.
Volkert was making $96,600 in his current position in West Bend. "I definitely did not make the move because of the money, this is just about the opportunity to do the things I'm very strong in," he said.
Volkert was one of two candidates vying for the city administrator's job in Hartford. A local product, Volkert graduated West Bend East High School in 1985.