Story originally post Jan. 13, 2016 – Applebee's in WB Sold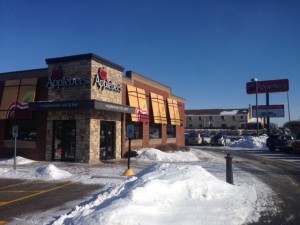 Apparently there's some scuttlebutt about this again – here's the original post from Jan. 13, 2016. Find all your local news first at http://www.washingtoncountyinsider.com
The Applebee's, 2510 W. Washington St., in West Bend has been sold.
GE Capital Franchise Finance Corp. sold on Dec. 8, 2015 to Broadstone Net Lease which acquired a portfolio of eight Applebee's restaurants with locations across Wisconsin.
The properties were acquired via lease assumption, and are operated by Wisconsin Hospitality Group, LLC, a multi-concept operator. BNL currently owns 22 Applebee's restaurants in seven states.
The sale price was $2,266,193.
According to city records the property had a 2015 assessed value of $1,168,400.
GE Capital Franchise Finance Corp. bought the property in Aug. 1, 1998 for $1.2 million.