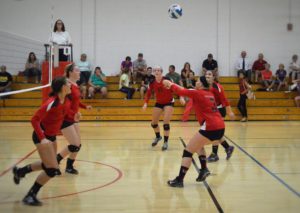 The UW-Washington County volleyball team traveled to UW-Marathon for a non-conference volleyball match.  The Wildcats won 25-13, 25-18, 19-25, 25-17.
"We played the match without our setter Atira Boyce who was out with a concussion from Wednesday's night match," said coach Deb Butschlick.
Michaela Millard took over as setter and led the Wildcats.
"She did an outstanding job recording 32 assists for kills, 9 digs and 2 ace serves," Butschlick said.  "I was very impressed how Michaela really stepped up to the plate and led the team."
Amber Herbst led UW-WC with 16 kills, 10 ace serves and 4 digs.  Courtney Peters had 8 kills and 12 digs.  Marisa Moser led the team with 19 digs.
The team worked hard on defense and making the most out of every set, said Butschlick.
The Wildcats are 3 – 1 overall and 1 – 0 WCC Eastern Division.
UW-WC plays Monday at home against UW-Richland at 5 p.m. and Silver Lake at 7:30 p.m.