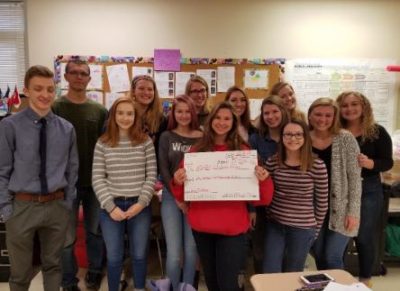 Dec. 9, 2017 – West Bend, WI – As part of a global outreach activity, 230 students in French language classes at West Bend East and West High Schools raised $1,500 to help educate, feed, and clothe children at the Movement and Action for the Benefit of Orphans home in Haiti.
In the five years students have been raising funds for MABO, they have collected more than $7,000.
Recently, students raised funds through a school-wide candy sale. Additional funds were raised by students donating their own money, some even giving $100.
The 2017 funds will be used in part by MABO for its Christmas celebration.
Dale Waldo of MABO wrote in his thank-you letter to the students, "From the bottom of our collective hearts we want to thank you for your donations. In an age of magnified selfishness, you have all learned and practice one of the most meaningful things in life. That it is not what we have in life that is important, it is what we have to share that is important. The money you have donated will be used to pay for a big party during the holidays for the kids. Having been to more than one of their parties, they are a blast. There is singing, dancing, skits, wonderful food, soda and laughs like you would not believe. They know how to party at MABO! We also will use a portion of the money to buy gifts for the kids."
The students chose to support MABO after learning about Haiti from a resident of the country brought to the high schools by the Haiti Team at Advent Lutheran Church in Cedarburg.
Teacher Christi Fischer said, "This global-outreach project has opened the world to them and helped them feel part of something bigger than their lives here. It has also brought us closer together as we all feel we are part of the MABO family."