February 28, 2021 – Fond du Lac, WI – Sunday, Feb. 28, marked the final day of the 2021 sturgeon spearing season. It was a unique year with good water clarity and solid ice throughout the entire season. We heard numerous stories from around the system, including first-timers, good family time and some giant sturgeon.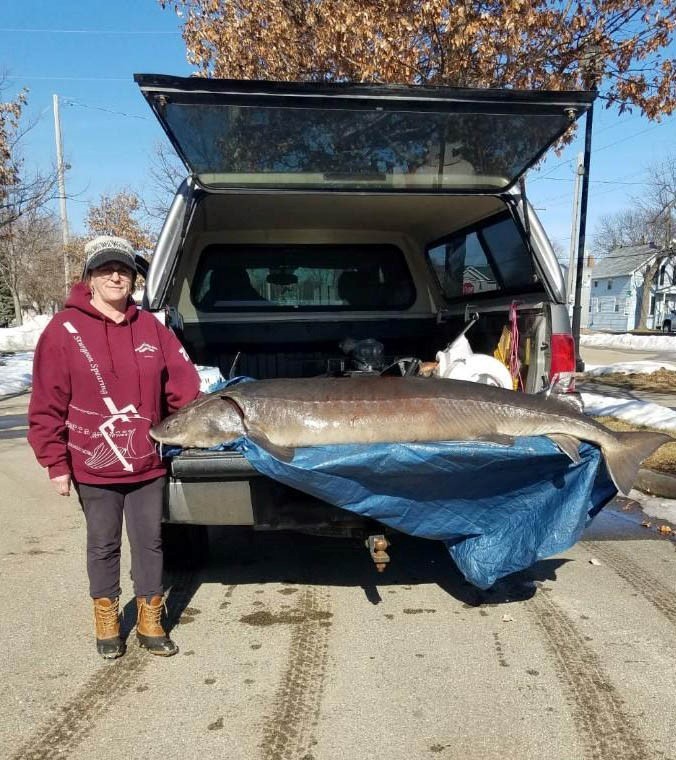 Across the system this season, 291 juvenile females, 737 adult females, and 803 males were harvested for a total of 1,831 fish.
The Lake Winnebago harvest accounted for 1,467 fish consisting of 249 juvenile females, 660 adult females, and 558 males. This year's Lake Winnebago harvest was the highest since the 2015 season. This season lasted the entire 16 days, though we did come close to reaching the 90% triggers. This year's Lake Winnebago harvest was driven by the favorable water clarity around portions of the lake as spearers fishing zones 1,2,3 reported they could see the bottom in most areas.
The final day's harvest looked much like yesterday's as 50 fish were harvested on Lake Winnebago. Many spearers had already pulled their shacks for the season resulting in minimal spearing effort around the lake during the final day. The busiest registration station was Blackwolf Landing, with 13 fish registered. This year, Stockbridge Harbor led all registration stations recording 303 fish. It was closely followed by Harrison Town Hall, which registered 290 fish.
Today's largest fish harvested on Lake Winnebago was the 135.8 pound (75.3 inches) fish speared by Kevin Ward. Kevin's fish was an F2 female and registered at Blackwolf Landing.
Overall this season, 77 harvested fish weighed over 100 pounds, making up 4.2% of the total system-wide harvest. The percentage of fish weighing over 100 pounds in the 2021 harvest is similar to the 2019 and 2020 harvests. Over the past few seasons, the fish have been generally leaner, likely due to a diet consisting of more red worms than shad in recent years.
Click here to view the full harvest details.
Congratulations to all of this year's successful spearers. The anticipation and excitement are already building for the 2022 season!
Day 15 and the second to last day of the 2021 sturgeon spearing season followed this week's trend as a total of 44 fish were speared.
Today's total harvest consisted of 9 juvenile females, 24 adult females, and 11 males bringing Lake Winnebago season totals to 240 juvenile females, 643 adult females, and 534 males for 1,417 fish. There was a three-way tie among Stockbridge Harbor, Harrison Town Hall and Blackwolf Landing registration stations for the most fish registered today at 9. Stockbridge Harbor registration station still leads the lake in most fish registered this season with 294.
Winnebago System harvest totals have risen to 282 juvenile females, 720 adult females and 779 males for a system-wide total of 1,781 fish.
The story around the lake today was the beautiful spring-like Wisconsin weather. It is not often that spearers take to the ice and leave their winter jackets at home, but today was an exception. Reports from successful spearers are that despite the warm weather, lake access points remain in decent shape. However, make sure to check with the local fishing clubs for updates on ice conditions.
So far, water clarity and spearing conditions remain unaffected by the warmer weather, and favorable spearing conditions will likely last through the final day of the 2021 season. See the full day 15 harvest report breakdown below.
Good luck to those heading out on the final day in hopes of harvesting their trophy. Congratulations to all those who have harvested a fish this season.
Click here for a detailed harvest report.
Today, the largest fish harvested on Lake Winnebago was the 120.5-pound (73.5 inches) fish speared by Marcel Cardinal. Marcel's fish was an F2 female and was registered at the Grundman Lane registration station. Four fish harvested today weighed 100 pounds or greater, bringing the season total on the system to 75 fish speared weighing over 100 pounds.