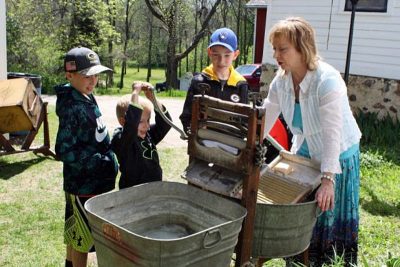 Richfield, WI – Have you ever washed clothes using a scrub board and then hung them on the line to dry?
You can do many of the day-to-day chores as they were done years ago by taking a Step Back in Time. Come to the beautiful Richfield Historical Park, 4399 Pleasant Hill Rd., Richfield on Sunday, August 13, from noon to 3 p.m.
In addition to washing clothes, you can grind coffee, haul grain, play 'What's That Sound?," ring a dinner bell and much more.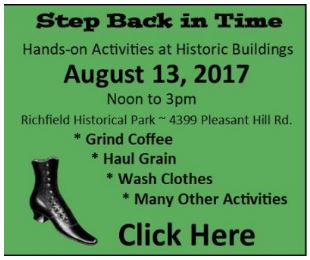 The Messer/Mayer Mill, Mill House, and Lillicrapp Welcome Center will all be open and have hands-on activities. There is a $5 tour fee with children 5 and under being free. A taste of apple cider is included in the fee.
Parking is free. Snacks, homemade cookies, and water available for sale.
Be sure to come early so you will have time to visit all three buildings and take part in the fun.
Visit richfieldhistoricalsociety.org for more information about this event and the Society.
All proceeds benefit the Richfield Historical Society.