Talented young musicians to perform at upcoming concerts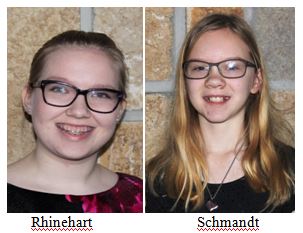 Jan. 21, 2018 – Washington Co., WI – The 47th Washington County Youth Concerto Auditions were held Saturday,  Jan. 20, and two talented young musicians were chosen to perform in upcoming concerts.
In the Senior Division, pianist, Elizabeth Rhinehart,  was selected as the Symphony Performance Winner and will perform Sunday, March 4, 2018, in the Kettle Moraine Symphony concert at 3 p.m. in Our Savior's Lutheran Church in West Bend.
Rhinehart, a high school sophomore at Hartford Union High School, is a student of Lori Schneider,  and will be performing the third movement of Piano Concerto No. 2 in G Minor by Camille Saint-Säens.
Featured at the Honors Recital on Sunday, April 8, 2018, at 3 p.m. at the Kewaskum High School Theater, will be Junior Piano Division first place winner, Michaya Schmandt, a student of Eileen Schmiege.  Schmandt, a 6th grader at Good Shepherd Lutheran School in West Bend, will be performing the third movement of Concerto in G by Robert Vandall.
In the Senior Division, second place was awarded to Jared Peterson, a student of Anna Asch. Honorable Mention in this division was awarded to Hana Schwonek, a student of Schneider.
The Junior Division second place winner was Aleah Latham, a student of Schneider.  Honorable Mention was awarded to Aislinn Carey, also a student of Schneider.
Tickets prices for the Kettle Moraine Symphony Concert are adults/$18, seniors (65+) $15, and students/$5.  For ticket purchase information, call 262-334-3469, or visit the Kettle Moraine Symphony website http://www.kmsymphony.org/
Admission is free for the Honors Recital.  The auditions were sponsored by the Moraine Area Private Music Teachers Organization.