Thanks to volunteers from the West Bend Noon Rotary | By Anna Jensen
Nov. 1, 2018 – West Bend, WI – A huge thank you to these individuals  from West Bend Noon Rotary Club: Chris Wenzel, Amanda Follett, Jerry Mehring and Richard Klumb.
This task would have taken the Downtown West Bend Association half a day to do but with the help of the Noon Rotary Club it was done in 30 minutes.
Many hands make light work.  West Bend is a better place with service organizations like Rotary.
Next year's ArtWalk  banners will be put on the light poles in May.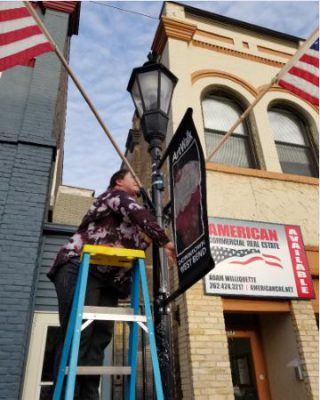 About Author
Judy Steffes
First-run stories from a trusted reporter who has lived in West Bend/ Washington County for over 33 years. Business/faith/education/community/history/arts.