November 13, 2019 – West Bend, WI-Jim Lorch, Cedar Community independent living resident, picked up the clarinet at age seven and was able to play by ear. He could listen to a song, then play it back without missing a beat.
Jim began taking formal lessons at the age of eight and later joined the band of the Milwaukee Public Schools Biennual Music Festival in 1965 as a third clarinet.
In 1967, he a asked by the band director if he could play an E-flat clarinet. "It's a clarinet, isn't it?" was Jim's response. He was the only E-flat clarinet player in the City of Milwaukee to make the All-City Band in 1967 and again in 1969.
Jim decided not to pursue a music degree after high school. "Music is what got me through high school. I didn't have a real high self-esteem," sad Jim. "I was a second-chair clarinet, and there was always someone ahead of me. I wasn't comfortable challenging anybody."
While in high school, Jim knew he didn't want to be drafted into the military. He wanted to make the choice himself and he wanted to be a Marine, similar to his father, who was a merchant Marine. He enlisted 120 days before his high school graduation. After graduation, he went to boot camp at the Marine Corps Recruit Depot in San Diego, Calif. "We were known as the Hollywood Marines— sunglasses and suntan lotion," laughed Jim.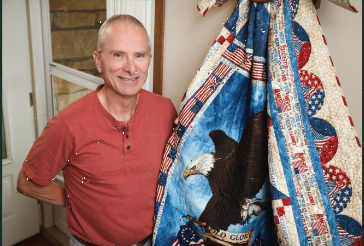 During basic training, the drill instructor asked if anyone played a musical instrument. Jim said yes, and after trying out, he made the Marine Corps Base Band playing clarinet. The primary duty of a bandsman, as Jim was told, was to guard the general and pick up the deceased. He also mentioned that in any branch of the military, you are a rifleman first, and your military occupational status is secondary…
Click HERE to read more about Jim's military service and how he would 'strike up the music' with The River City Irregulars and Hartford Community Band.