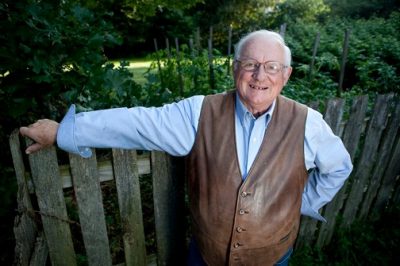 May 23, 2017 – Richfield, WI – The Richfield Historical Society invites you to "Never Curse the Rain" by Jerry Apps, on Thursday,  May 25,  at 7 p.m., at the Richfield Fire Hall, 2008 State Road 175.
Admission is free and open to the Richfield Historical Society Members and the general public.
Mr. Apps is a celebrated rural storyteller and an award-winning author with more than 40 non-fiction and fiction books.
He was born and raised on a central Wisconsin farm before electricity, indoor plumbing and central heating. Professionally he served as a county extension agent and professor at the University of Wisconsin College of Agriculture and Life Sciences in Madison Wisconsin.
"Never Curse the Rain" is his latest book in which he shares his memories of water, from its importance to crops and cattle to its many recreational uses – fishing trips, canoe journeys, and the simple pleasure of an afternoon spent dreaming in the hay mow as the rain patters on a barn roof.
For more information on how to become a member of the Richfield Historical Society and information about the General Meeting Program series, and to get information about all of our annual events, visit our website www.richfieldhistoricalsociety.org and stay connected to us on Facebook and Twitter.  Funds raised at all Richfield Historical Society events support the Society's educational programs and maintenance of the Richfield Historical Park.
The mission of the Richfield Historical Society, a 501c3 non-profit corporation, is to discover, collect, preserve and promote the history of the Village of Richfield.
Photo courtesy Jerry Apps.